Ngige Blasts Obasanjo, Insists Buhari Didn't Inflict Nigerians With Poverty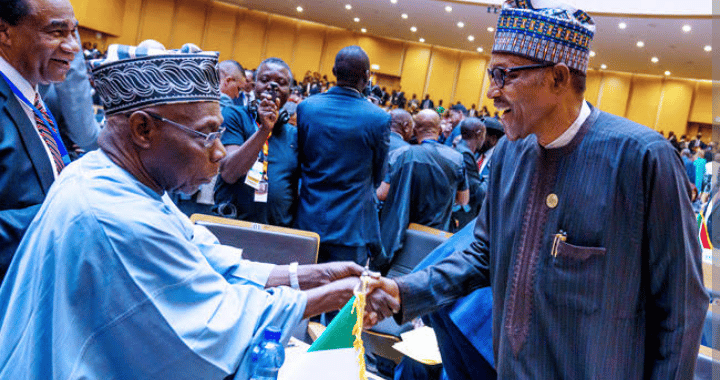 The Minister of Labour and Employment, Chris Ngige has insisted that the president of Nigeria, Muhammadu Buhari should not be blamed for the increasing rate of poverty in the country.
Chris Ngige stated this at the St. Mary's Church Pavilion in Alor on Wednesday in reaction to the criticism of the Buhari administration from former President Olusegun Obasanjo.
While Obasanjo was declaring his support for the presidential candidate of the Labour Party, Peter Obi, the former president said Buhari's government has made Nigeria fall far behind where it was at the start of his presidency in 1999.
Ngige's response included a warning that Buhari should not be held accountable for everything that has gone wrong "under the sun" and should instead be left alone.
Ngige poked fun at former president Obasanjo by asking what poverty-reduction policies he implemented during his eight years in office.
The former Anambra state governor said: "Disregard those politicians who will come and tell you that the Buhari administration inflicted hardship and poverty on you. One of them wrote a letter the other day—the habitual national letter writer. It is easy to criticize."
Chris Ngige noted that the same Obasanjo, who was then President, had promised to build the Second Niger Bridge, but had not followed through on his promise because of a lack of commitment.
He continued, "I was the one who brought Buhari to the South East in 2015. As the South East Zonal Coordinator, I told the General that the bridge is critical to our people and the entire South, all the way up to North Central. The General asked if we could do it, and I said, 'Why not?.' The same question he asked at the Ziks Mausoleum completion, and he told me that if God made him president, he would construct the bridge and complete the abandoned mausoleum for our people.
"I was the one who brought to the fore in our South East campaign the Second Niger Bridge, Enugu-Onitsha Expressway, and Enugu Airport renovation and remodelling, for which the Federal Government gave the Minister of Aviation, N10bn, the authority to execute the upgrade as critical infrastructural projects needed by the zone. Today, the tarmac was reconstructed and the runway expanded from one to three kilometres with modern night lighting systems and navigational aids and several other projects.
"So, President Buhari ought to be praised, but they will tell you that people are dying of hunger. Hunger is a global problem. If you go to the news, you will see white people protesting against hunger and the high cost of living in Europe and elsewhere."