Aisha Buhari Cries To Pharmacist Association To End Youth Abuse Of Drugs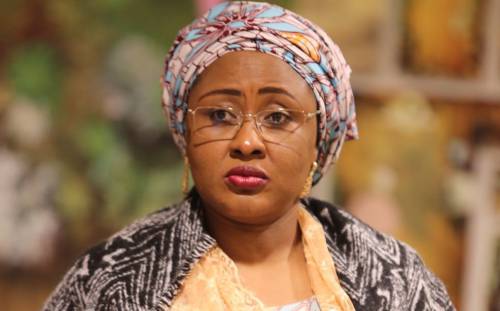 Aisha Buhari Cries To Lady Pharmacists Association To Join her In Bringing An End to Use of Illicit Drugs In Nigeria
Wife of the Nigeria's President, Mrs Aisha Buhari, has appealed to members of the Association of Lady Pharmacists of Nigeria (ALPS) to end rising cases of drug abuse among women and youths in the country.
Mrs Buhari made the appeal on Wednesday when she received a delegation of the female wing of the Pharmaceutical Society of Nigeria (PSN), led by their National Chairman, Mrs Zainab Shariff, at the Presidential Villa in Abuja.
The wife of the president, who decried the Rampant cases of illicit drugs among young people, said there was need for relevant authorities to stem the menace.
"These drugs have destroyed lives of many young girls and boys, hence the need for lady pharmacists to do everything possible to protect the lives of women and youths in Nigeria,'' she said.
Mrs Buhari told them that her NGO, the Future Assured initiative, in collaboration with the wives of governors, has been in the forefront on the advocacy against drug abuse in Nigeria.
She therefore appealed for the establishment of practical rehabilitation centres across the country to care for the victims of drug abuse.
"This will go a long way in addressing the health and physical wellbeing of the victims,'' she said.
The First lady also called on the lady pharmacists to make strong commitment and advocacy against the manufacturing and sale of illicit drugs.
The chairman of the female pharmacists, Sharrif  had earlier noted that the aim of the visit was to seek for collaboration with the Future Assured initiative of Mrs Buhari to provide medication for less privilege Nigerians,
Sharrif who  emphasized the need for consumption of hygienic foods, said the association was promoting planting of natural seeds for the production and processing of certified medicine.
She therefore urged Mrs. Buhari to establish a unique and functional fruits and vegetable market for women through the Future Assured programme as this will go a long way in setting example for the local vegetable sellers in the area of hygiene control.
She assured Mrs Buhari of their commitment to support the programmes of Future Assured in its bid to protect the health and wellbeing of women and children in Nigeria.
Naija News recalls that the federal government recently banned the use of codeine in the production of cough syrups as part of efforts to arrest the growing trend of drug abuse by some youths.