Senator Omo-Agege Resumes Sitting At The Senate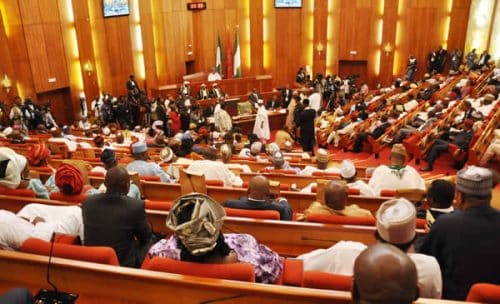 Senator Omo-Agege Resumes Legislative Duties
Lawmaker representing Delta Central Senatorial District, Senator Ovie Omo-Agege, was at the Senate chamber this morning.
Confirmed source reports that he signed the attendance register and left.
However, Naija News reports that the Senator returned to join his colleagues in plenary before the lawmakers went into a closed door session.
The lawmaker, who against the expectation of many, was absent on Tuesday when he said he was resuming, had told The PUNCH that he would be at the Senate on Wednesday (today).
"(I) Will be at plenary tomorrow, God will," a text message in response a correspondent's inquiry on his absence on Tuesday read.
Naija News had earlier reported that Senator Omo-Agege had boldy declared that he would resume his legislative duties while the case concerning his suspension remains in court.