Court Sends Former Governor Jonah Jang To Prison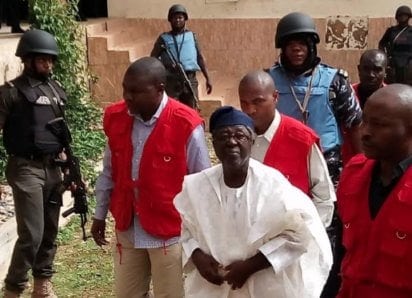 Court Orders Senator Jonah Jang To Be Remanded In Prison
Former Governor of Plateau State, Senator Jonah Jang today has been arraigned at a state high court in Jos.
The former Governor who was accused of embezzling N6.3 billion, was ordered to be remanded in Jos Prison, pending when the Court would give its ruling on his bail application on Thursday next week.
Sen. Jang, who was arraigned alongside one Yusuf Gyang Pam today by the Economic and Financial Crimes Commission (EFCC) on a 12 count charge, pleaded not guilty to all the counts.
Earlier, while raising objection to Jang's application for bail by his Counsel Robert Clark (SAN), the prosecuting Counsel, Rotimi Jacob (SAN), called on the court to look at the seriousness of the offence, the nature of the charge, the evidence available, the probability of the accused appearing constantly in the trial and the weight of the punishment.
While adjourning the matter to next week Thursday, being the 24th May, 2018, the presiding Judge, Hon. Justice Daniel Longji, said it would provide him ample time to give a well deserved ruling, as he would have time to look at the charges, the affidavit of the applicants for bail and the Counter Affidavit filed by the EFCC.
He said, 'There is a situation here where the law becomes an axe. I have not studied the charges and I cannot use my personal knowledge of the accused person(s) to ask him to go on bail.
"They should be remanded in prison custody pending the ruling on his bail on Thursday next week."
Recall Naija News earlier reported that the Independent And Other Related Offences Commission (ICPC) withdrew its charges against Jang after consulting with EFCC so as to avoid an abuse of court process where two institutions are pursuing the same matter in court.