Protest Hits Owerri Disrupting LGA Congress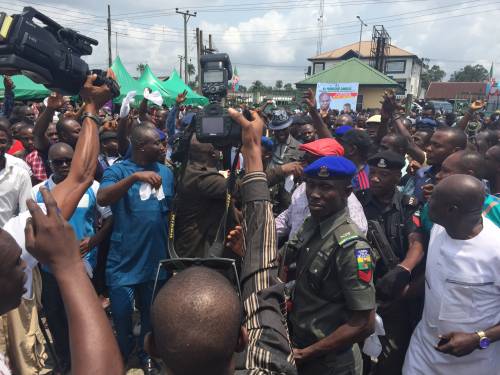 Over 2,000 All Progressive Congress (APC)  Owerri Youths   Engage In Protests Disrupting LGA Congress
The All Progressive Congress (APC)  Youths   In Owerri  of  Imo state, numbering  over 2,000 have disrupted the Local Government Areas congress today.
Punch reports that the youths  blocked the road causing traffic gridlock in the state capital for hours.
The protesting youths reportedly  stormed the residence of the national Organizing secretary of the party, Senator Osita Izunna, demanding his prosecution.
some Policemen who were however despatched to salvage the situation were able to persuade the youths to stay off the road.
The leader of the youths, Jeff Nwoha, who spoke to journalists at Government roundabout, where they camped for hours, urged the national working committee of the party to discipline the members of the party in the state who had "been causing troubles in the party".
He also urged the leadership of the party to fix a new date for the conduct of the botched ward congress of the party in the state.
According to Nwoha, "We want to join president Muhammadu Buhari to fight corruption. We demand that all those who tried to rig the botched ward congress in Imo state be disciplined".
The leadership of the party should discipline those who stole the sensitive materials during the botched ward congress in Imo state.
There was no ward congress in Imo state, we, therefore, urge the party leadership to announce a date for the conduct of a fresh ward congress in Imo state."
The APC state publicity secretary, Nwabueze Oguchienti, said that the protesting youths should stop stampeding the party.
The APC spokesperson said that "congresses are entirely a party affair. The protesting youths should allow us to manage the crisis and reposition the party to winning ways."
He confirmed to news men, that the LGA congress across the nation had been postponed.
Meanwhile, Naija News recalls that Ekiti, Bayelsa ,Delta and Rivers,  states APC have attracted disagreements and grievances from its members so far.