IG Of Police Expected To Appear Before Senate Today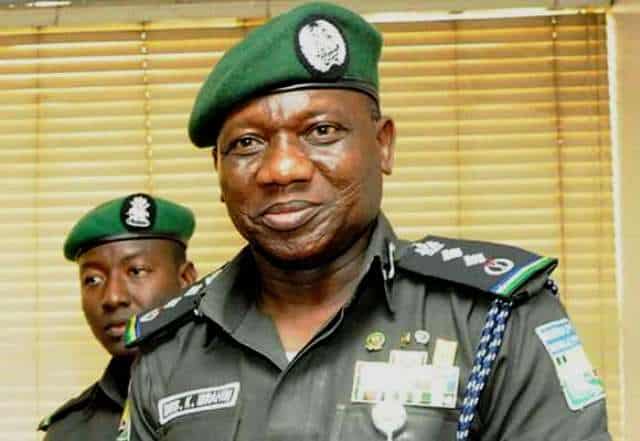 Inspector General Of Police Summoned Again To Explain Insecurity State Of The Country, Treatment Of Melaye, Others
The Inspector General of Police, Mr. Ibrahim Idris is again expected to appear before the senate today. This is coming after ignoring the summons of the National Assembly twice.
The IG is to brief the lawmakers on efforts being made by the police to put a stop to the incessant killings, insecurity in different parts of the country as well as the treatment of Senator Dino Melaye  by the police, in the course of his arrest, hospitalization and arraignment before the Federal High Court Abuja and the Magistrate's Court in Lokoja, Kogi State.
Senate had also summoned the security chiefs over the proliferation of arms across the country, which it said had contributed to heightened insecurity in Nigeria.
Naija News recalls that the IG had shunned the summons of the upper legislative chamber on the same subject matter twice in the last two weeks.
However, following Monday's meeting between President Muhammadu Buhari, Senate President Bukola Saraki and Speaker of the House of Representatives, Hon. Yakubu Dogara, where Idris' attitude to the legislature was discussed, the police IG is expected to honour the summons today.
Saraki, in his remarks on rising insecurity in the country at plenary on Tuesday, also gave the impression that Idris will definitely show up today.
"It is unfortunate, the last time we invited the IG, and he did not show up. We have given him this Wednesday again to come," he said.
He also described the recent bombing of the home of the President General of the Ohaneze Ndigbo, Chief John Nwodo, as unfortunate and directed the Senate Committee on Police to find out the status of the investigation.
Also at plenary on  Tuesday, the Senate resolved to summon the security chiefs including the Comptroller General of the Nigerian Customs Service (NCS), Col. Hammed Ali (rtd), over the proliferation of weapons in the country.
This followed a motion sponsored by Senator Suleiman Hunkuyi (Kaduna APC) who said the easy acquisition of firearms had contributed to the drastic loss of lives and wanton destruction of property of Nigerian citizens.
Hunkuyi further noted that the ease with which hoodlums access and acquire firearms was devastating for Nigeria.
"The combined effects of Sections 3 and 4 of the Firearms Act respectively, restrict the possession of firearms among persons. Section 3 of the Firearms Act specifically states that no person should possess the category of firearms seen with these heartless persons unless that person is granted a licence by the president.
"Section 4 of the Act gives the Inspector-General of Police the power to issue licences for people to own less lethal firearms.
"But one does not need to ask whether all the firearm-bearing elements, ranging from kidnappers, armed robbers, armed herdsmen, cattle rustlers, cultists, et al, got their licences from the appropriate quarters, because the answer is an emphatic no," Hunkuyi said.