President Trump Takes Decision Over Iran Nuclear Agreement Today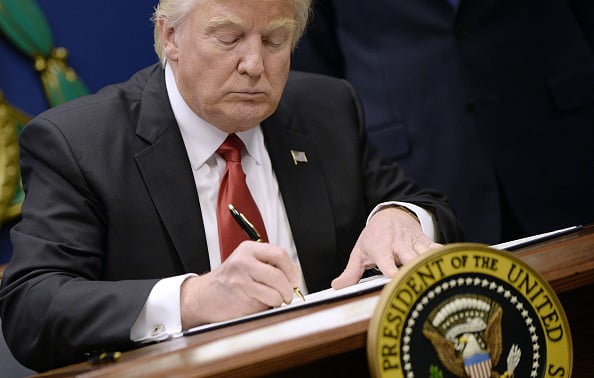 The World Awaits Trump's Decision Over Iran Nuclear Agreement
President of the United States, Donald Trump has described as insane," "ridiculous," "worst deal ever"  the  Iran nuclear agreement, which he has vehemently opposed since early in his campaign for President.
The world will soon find out whether Mr Trump's rants about the 2015 deal will produce a concrete shift in U.S. diplomacy, regarding one of the most important foreign policy issues of his presidency.
Mr Trump officially has until Saturday to decide whether to reintroduce U.S. sanctions on Iran, which among other things could spell an end to the accord.
But he has said he will announce his decision at 2.00 p.m. (1800 GMT) Today.
Earlier in January, Mr Trump renewed waivers for U.S. sanctions on Iran but warned that it was the last time he would do so unless several "disastrous flaws" in the agreement were addressed.
His ultimatum triggered a 120-day period that ends this weekend.
There is a growing consensus in the United States that his decision will effectively pull the U.S. out of the deal, and that prospect has been accompanied by a range of speculation over what comes next.
French President, Emmanuel Macron, said he didn't know what Mr Trump would decide, but after several meetings with the president over a three-day state visit recently he said, "My view is that he will get rid of this deal on his own for domestic reasons."
"The president campaigned on getting out of the deal and I think that he's going to do so,'' Lieut.-Gen. William G Boykin said on Thursday on Fox News.
Naija News also learnt that Iranian leaders already have pledged to abandon the deal if the U.S. withdraws but it could remain in the deal with Britain, France and Germany, along with China and Russia, which have expressed their continued support.
Meanwhile, UN Secretary-General, Antonio Guterres, has warned that if Mr Trump withdraws, it could risk war.
Since Mr Trump issued the ultimatum in January, U.S. and European negotiators have met a number of times to address U.S. concerns within and beyond the Joint Comprehensive Plan of Action (JCPOA), as the deal is formally known.
The U.S. side has raised four main issues: Iran's ballistic missile programme, its involvement in regional conflicts, inspection of Iranian nuclear sites and so-called sunset clauses.
The sunset clauses, which let some restrictions on Iran's nuclear programme expire, have proved the most difficult of these.
The U.S. claims that the clauses provide Iran with a pathway to building nuclear weapons over time.
Trump has pushed the European partners to search for possible compromises.