Court Adjourns Hearing On Melaye's Bail Application Until Thursday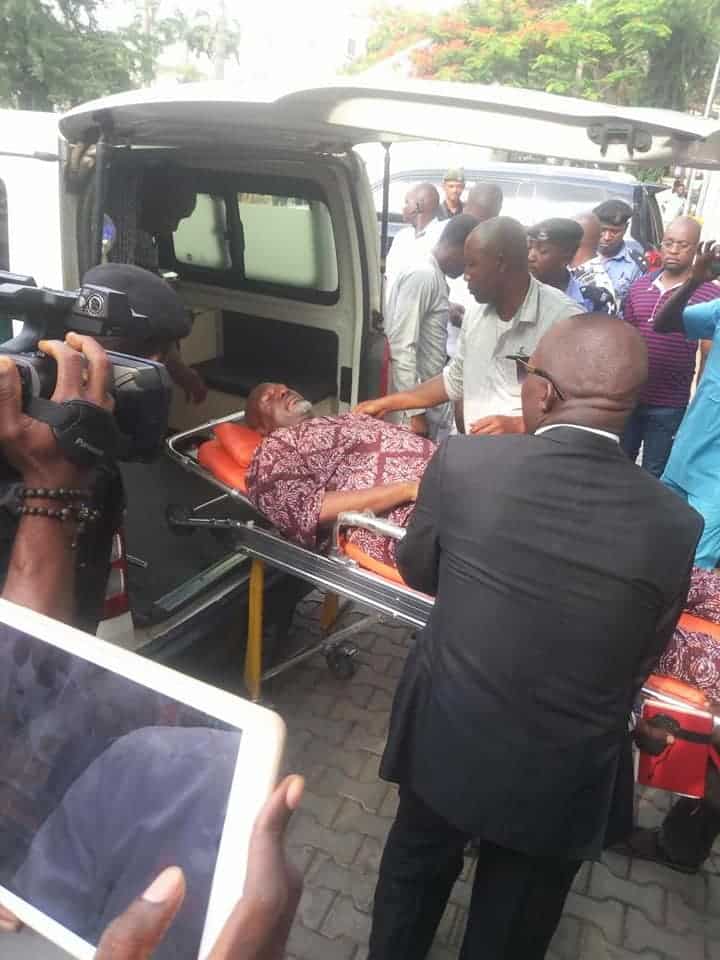 A Lokoja Based High Court on Monday adjourned hearing in a bail application and counter motion brought by Sen. Dino Melaye until Thursday.
Melaye along side Kabiru Seidu, alias Osama, and Nuhu Salihu, aka Small, is facing a seven-counts bordering on illegal possession of firearms, criminal conspiracy and illegal dealing in arms.
Justice Nasir Ajanah, who is the Chief Judge of Kogi, gave the ruling at the resumed hearing of the motions to enable Melaye to file further and better affidavit on the bail application. He further stated that the court needed time to study the counter motions very well to be able to rule on the matter judiciously.
The prosecution, led by Dr Alex Izinyon (SAN), had urged the court not to grant Melaye bail because he had once escaped from lawful custody.
He stated that the senator initial escape from custody does not portray him as a person who would respect bail term.
But counsel to Melaye, Chief Mike Ozekhome (SAN), urged the court to grant his client bail because the circumstances that led to his alleged escape as portrayed by the prosecution were not true.
He said: "The truth of the matter is that initially the police told Sen. Dino (Melaye) that they would take him to a high court in Abuja for prosecution.
"But the police suddenly decided to head to Lokoja and Dino said while they were in the vehicle the police tear-gassed him twice.
"Melaye protested vehemently why they were taking him to Lokoja instead of Abuja.
"So, as soon as the vehicle carrying Dino came to a standstill at Area One Intersection Roundabout, Dino forced the door of the vehicle open and jumped down because he was gasping for breath so that he would not suffocate and die.
"Again when Dino jumped out of the bus and started shouting, the people around that area and his lawyers sympathised with him and took him to Sakling Medical Centre in Abuja where the police again came and bundled him to the National Hospital in Abuja where they chained him to his bed like a common criminal.
"The question is if someone has the plan to jump bail, he will not allow himself to be in the hospital, he will run to his village or can even run out of the country," Ozekhome said.
The police had earlier arraigned Melaye in a Lokoja Senior Magistrates' Court which ordered that he be remanded in police custody pending his arraignment in a high court in Lokoja.
Naija News brought to your notice that Dino Melaye was conveyed to the court Premises in ambulance.