Embrace Farming, Agric Is Our Future – Buhari Tells Youths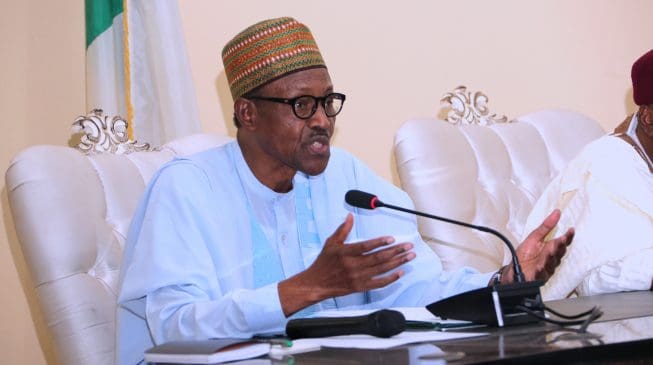 Earn Respect For Yourself, Engage In Farming – Buhari Advise Youths
A statement released by Garba Shehu, the president's Senior Special Assistant on Media and Publicity, after the meeting of President Muhammadu Buhari with the United States' President, Donald Trump at Blair House, Washington DC has reiterated government's call on youths, both educated and the uneducated to embrace agriculture.
The President who made a call out to the Nigerian youths advised them to embrace agriculture, a very important sector of the economy and also seen as the future. He also pleaded with them to earn respect for themselves as they engage in farming.
He stated that the government has to aid youths in planing their future, pleading with them to grab the easily accessible opportunities in agriculture because "agriculture is the future."
Report has it that the president had meetings with the Chief Executive Officers of six American agricultural companies and their Nigerian counterparts including Aliko Dangote and John Coumantaros.
While taking on the factors of climate change and a blossom youth population, the president promised the youths of the promotion of skill development, innovation and entrepreneurship.
He said, "We realised, rather belatedly that we ought to have been investing in agriculture. We are now aiming at food security because of our large population.
"Our youths, the ones who have gone to school and even those that have not, should go to the farm, to earn respect for themselves.
"Agriculture is providing jobs for millions of our citizens and we are doing well towards the attainment of food security and jobs.
"The media may not appreciate the work we are doing but we will shock them by the success we are recording."
Buhari welcomed several investment proposals being put in place by the Americans and their Nigerian counterparts.
Recall Naija News also reported that American President, Donald Trump was ready to assist Nigeria to grow its agricultural sector.