Apo Killings: FG Releases N135m To Victims Of DSS Killing After Four Years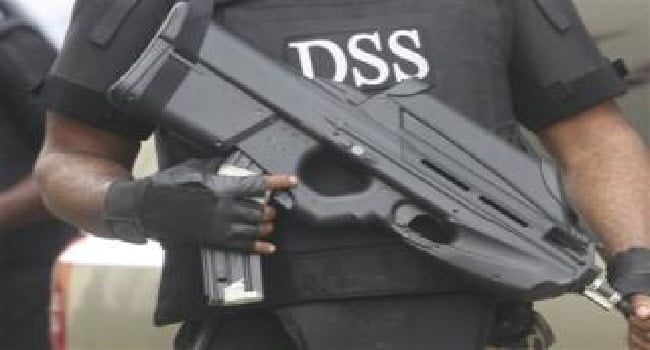 Federal Government Compensates DSS Killing Victims And Relatives With Cheque Of N135Million
The Federal government  has on Thursday, compensated the family members and victims of the killing of eight persons by the Department of State Services (DSS) in 2013 with a cheque of N135 million.
The payment is coming four years and seven months after a panel of inquiry by the National Human Rights Commission (NHRC) indicted the security agency of grossly violating the rights of the victims and consequently ordered the State Security Service to pay compensation of N135m to the dead and injured victims.
The Attorney General of the Federation (AGF) and Minister of Justice, Mr. Abubakar Malami (SAN), who made the presentation on behalf of the federal government, said the gesture is a confirmation of President Muhammadu Buhari's commitment to upholding the rule of law, justice and respect of human rights.
Eight persons were reported to have died and 11 others sustained various degree of injuries when security operatives, acting on intelligence report on September 20, 2013 attacked the victims in Apo area of the Federal Capital Territory (FCT).
Malami said "This gesture in no small measure has emphasized the role of the National Human Rights Commission as an independent organization with statutory duties for the promotion and protection of human rights.
"It also serves as an extra-judicial mechanism for the enhancement of the enjoyment of human rights. The commission performs its statutory functions without interference from the federal government."
The Minister appreciated Buhari for approving the payment and for also committing to the security and welfare of all Nigerians.
The incoming Executive Secretary of NHRC, Tony Ojukwu, said although, there is no amount of money that can compensate for the injuries sustained or losses occasioned by the incident, the cash compensation has however renewed the hope of getting justice in the country.
Ojukwu however commended the federal government and the DSS for complying with the decision of the commission.
"Though it has taken four years to implement that decision of the commission, it has come to confirm the posture of the present government to respect human rights as well as the decisions and recommendations of the commission," he said.
He disclosed that the commission has put in place measures to ensure that the right persons are paid.
"All payments relating to this compensation are being made through the bank after verification of the accounts, signatures and photographs of the victims," he said.
While stating that the commission feels fulfilled as a result of the payment of compensation to the victims, Ojukwu said his administration would ensure that Nigeria abides by all treaties signed regarding the protection of human rights.
A breakdown of the payment shows that N10 million each was awarded to the dead victims, while each of the 11 injured got N5 million.