Stolen Mace: Reactions And Questions Follow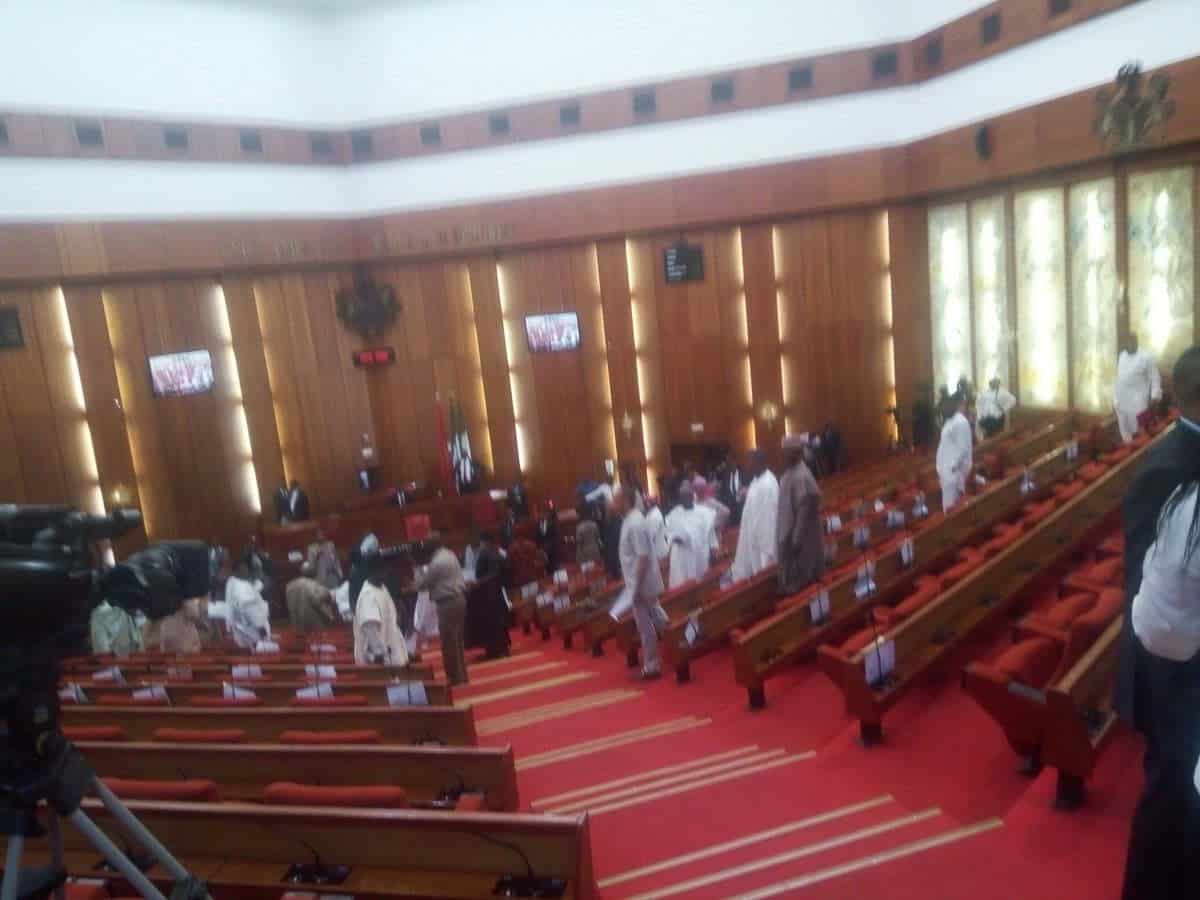 Invasion of National Assembly And Theft Of Mace Raise More Questions
Several unanswered questions have continued to trail the unscrupulous theft of the Mace, the symbol of authority at the National Assembly, by thugs who stormed the legislative chambers last week.
The National Assembly is expected to be a hallowed national institution which has all the nation's security agencies on ground protecting it? Where were the security agencies when the thugs practically strolled in and left with the Mace?
Naija News had earlier reported National Assembly, Abuja  was on Wednesday 18th of April, invaded by thugs  during the plenary session of the Senate,  who also beat up those who stood in their way, smashed security gadgets and made off with the Mace.
Expectedly, this extraordinary event has been condemned by shocked Nigerians, including the Federal Government, the House of Representatives (which immediately suspended its sitting and joined the Senate for a joint sitting in a show of solidarity), organised Labour, the various political parties and genuine patriots and lovers of democracy.
On the surface of it, this broad-spectrum expression of revulsion against this "coup" against our democracy is an indication that whoever was behind it, and whatever be their ulterior motive, does not enjoy the support of right-thinking Nigerian.
Why was a suspended Senator able to get into the plenary session unhindered? No matter how these questions are tackled it is obvious that officers sent to secure the National Assembly woefully failed to do their job.
If the invaders were armed and determined to kill they would have succeeded. What happened could encourage armed bandits and terrorists to attack the National Assembly at will or attempt to harm those who work there, knowing that the security is nothing to write home about.
We endorse the moves to probe this incident. Anybody in the security hierarchy who has questions to answer as to why security collapsed when the invasion took place must be summoned.
Aggrieved individuals, no matter how highly-placed or well-connected, must pursue redress to perceived injury within the confines of the law.
Whatever the invasion represented must not be allowed to repeat itself in any of our national institutions. It makes Nigeria a laughing stock in the comity of nations.
Irrespective of our individual political interests we must jealously guard the sanctity of the legislative arm of government, whether at the federal or state level.
It is the only arm that epitomises our democracy. The lawmakers are there to represent the citizenry.
They also act as checks against executive tyranny, and ensure that public funds are spent through constitutional processes. When they go wrong we must reprimand them, recall or refuse to re-elect them, but the sanctity of the institution must be upheld at all costs.
The perpetrators of that invasion must face  appropriate sanction by the law and other measures should be taken to guard and take for granted the security of the National Assembly.
(Culled from Vanguard)