Nigerian Army Takes Responsibility For Benue Attack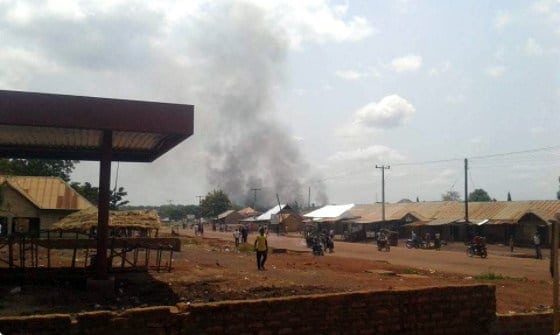 The Nigeria Army as accepted responsibility and acknowledge the involvement of it personnel in the attack that took place in Benue State which lead to the destruction of Property and the burning of houses which is said to be in retaliation for the killing of a soldier by some residents of the community.
The spokesperson for the Nigerian Army 707 Special Forces Brigade in Makurdi, Olabisi Ayeni,  who identified the slain soldier as Danlami Gambo, pointed out the soldier was alone when he was killed in an unknown circumstance and was buried in a shallow grave.
The apparent reprisal by the army resulted in the death of one elderly citizen who was killed in the blaze.
Naija News confirm that though the Army spokesman didn't reveal if the Army officers involved in the attack would be punished, he however disclosed that preliminary investigations revealed that some locals were involved in the killings of the soldier.
The chairman of the local government involved in the attack Francis Ayagah, confirmed that the soldiers were responsible for the attack.
While confirming the killing of a soldier in the community, Ayagah said he had been in touch with the commander of the troops stationed near the town to check ongoing killings linked to herdsmen across Benue State.
Ayagah decried the attack saying that it was unfortunate that the soldiers would attack the community after five person suspected to be involved in the lynching of the soldier.
According to Sahara Reporters, A member of the community said that the military official who was roaming on a farmland near the community, was lynched by hoodlums who mistook him for an intruder, saying that there have been reports that some killers were sighted in military fatigues in the state over the past weeks.
According to reports, the situation had been made worse by the withdrawal of police Special Forces from the community following a clash between the officers and commercial motorcyclists a few weeks ago.
Meanwhile, the Nigerian Army has recieved repentant two Boko Haram Commanders and a Boko Haram Physician.