Buhari Directs MDAs To Defend Budget At NASS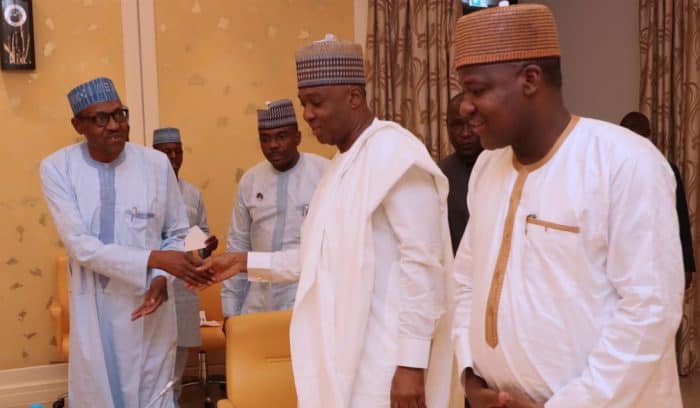 To fast track the passage of the 2018 Budget, President Muhammadu Buhari has instructed MDAs that has not defended their budget before the National Assembly to do so with immediate effect to enable the government spend money on security and key infrastructure.
The Secretary to the Federal government, Boss Mustapha made this known while briefing State house correspondent about the outcome of the president's meeting with the leadership of the National Assembly.
Naija News reported yesterday, that the President met with the leadership of the National Assembly, including the Senate President, Bukola Saraki, The Speaker, Yakubu Dogara and other principal officials of the national assembly last night in the Presidential Villa.
Boss Mustapha said: "Mr President has given instructions that all ministries and parastatals should ensure that they appear before the National Assembly to defend their submissions so that we can get this out of the way.
"This is a very dynamic year, there are preparations for elections and we are having quite a number of security challenges.
"And so if we do not appropriate, where will the money come from to be able to prosecute some of the assignments the Federal Government has in the appropriation of 2018.
"So this is a very good meeting; we intend to build on it. It is a confidence building mechanism and it is an interface that would definitely get a new dimension of the governance of this country for the betterment of the people of Nigeria,'' he said.
The SFG state that the meeting was called by the president to ensure that the Legislative is updated about what he was doing about the economy, security and job creation.
He added that the process of the interface would lead to amicable resolution of all the matters.
The President of the Senate, Bukola Saraki applauded the progress made during the interaction, adding that broad issues on security, budget, were discussed.
"It was a very good meeting and it gave us the opportunity to share our own views about the areas we needed to so that we will be well informed on them.
"It was a good development,'' Saraki added.
He explained that logistic challenges made it difficult for the meeting to hold earlier than now.
He said NASS was working to pass the budget, but noted that some agencies have not appeared to defend their appropriation.
"We are hoping that things would speed up now and that they will come and submit the details", he said.