Tillerson Sack Would Not Affect Nigeria- FG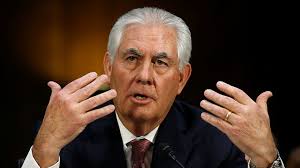 The Federal Government, today said the sack of the American Secretary of State, Rex Tillerson who was in Nigeria on Monday by President Donald Trump will have no negative effect on Nigeria as Government is continuum.
This assertions were made by the Minister of Foreign Affairs, Mr. Geoffrey Onyeama, while Briefing State House correspondents after the Federal Executive Council, FEC, meeting presided over by the Vice President, Yemi Osinbajo at the Council Chamber, Presidential Villa, Abuja.
He said, "Rex Tillerson sack won't affect (Nigeria) because government is a continuum as we all know.
"When he came it was the United States that was speaking and clearly we expect that with every expectation that everything he has said as regards US/Nigeria relations reflects the position of the United States, reflects the position of the president of the United States, so we don't see any change happening."
Also,the Minister of State for Petroleum, Dr. Ibe Kachikwu while briefing on the proposed modular refineries to be established in Delta and Rivers States, said the proposed refineries would help to curb the activities of illegal refineries rampant in the Niger Delta.
He pointed out that Nigeria's dependence on importation of petrol would be adequately checked by as four existing refineries would be renovated to full production capacity in 2019, as well has Dangote Refinery in Lagos.
According to him, "As a seasoned professional I have given all the guidance that is required to fix the refineries, we came into a situation where we don't have money to fix the refineries we had to raise the money looking into the PPP model, it has to go through a process.
"The technical committee is headed by NNPC, obviously they will submit their report to the board when they complete their work. So, from a governance and guidance sense, steering point of view, I think that steering is right on track, from a management of the technical aspect of the contracting, that is something we would have to allow NNPC handle, it is not the job of the ministry to superimpose, you got to let them do their work and do it efficiently.
"On modular refineries; modular wasn't supposed to provide a sufficient solution to your product needs, modulars are on the average between 2000 and 5000 maybe 10,000 at most capacity per refinery. Your consumption is about 630,000 barrels per day, that is not the essence of modular, what modular was supposed to do for us is provide work within some of these communities where people are busy doing illegal refining.
"It's not meant to address the refining product gap we have in the country, we are hoping that those gaps will be covered by a mixture of the three or four refineries that government owns currently, Warri, Port Harcourt and Kaduna and of course the Dangote refinery of 600 barrels."