Oyo APC, PDP aspirant bicker over N14 billion governor's office allocation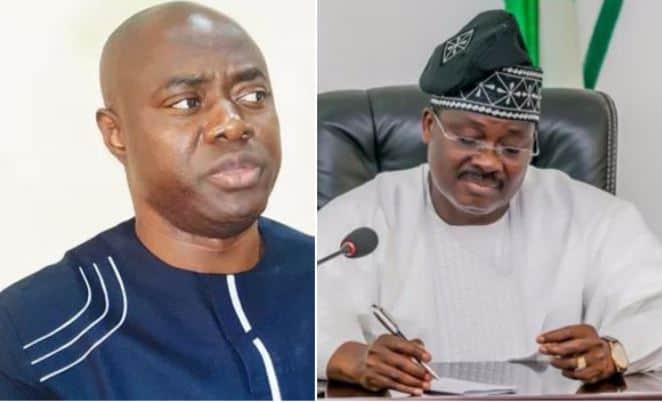 The Oyo State chapter of the All Progressives Congress (APC) has attacked a gubernatorial aspirant of the Peoples Democratic Party (PDP) in the state, Seyi Makinde, over the queries he raised against the allocation of over N14 billion to the office of the state governor.
The party said the PDP chieftain's assumptions were erroneous and misleading, noting that his additions were marred by his ambition to govern the state in a hurry.
Mr. Makinde had said that the allocation of "N15 billion or 12 per cent of the budget" to the office of the governor over and above the health and education sectors which received 2 per cent and 1 per cent respectively was a "dangerous misplacement of priority" since both sectors were in urgent need of attention.
He had also said that less than 3 per cent of the N271.7 billion budget for agriculture, which employs over two-third of the population, would trigger a higher rate of unemployment in the state, coupled with the constant attacks by Fulani herdsmen and the subsequent dislocation of farmers.
"Stock-piling the office of the governor with N15 billion for projects which will obviously be contracted out, while agriculture, health and education sectors suffer is a sad reminder that the out-going administration does not care about the welfare of our people and confirms its reputation as a government of contractors," said Mr. Makinde.
He urged the people to brace up for harder times as a result of the unfriendly policies of the out-going government as the budget was not inclusive and its implementation would not be to their welfare.
Reacting to Mr. Makinde's criticisms, the APC said the governorship aspirant should stop his deliberate misrepresentation of facts in the state's 2018 budget, saying that he would need "tuition in elementary mathematics to perform as an elective office holder."
The party's Director of Media, Abdulazeez Olatunde, said the desperation of Mr. Makinde to govern the state was beclouding his sense of judgment.
He explained that 12 per cent of the 2018 budget would be in the region of N32 billion as against the submission of Mr. Makinde that "N15 billion represented 12 per cent of N271 billion by his calculation", which was budgeted for the governor's office in the present financial year.
Mr. Olatunde also faulted Mr. Makinde's figures of 3 per cent, 2 per cent and 1 per cent as being budgeted for agriculture, health and education respectively, saying that instead, the amount budgeted for agric was 10.3 per cent, (N28.02 billion) while 17.6per cent (N46.2 billion) was budgeted for education.