Oby Ezekwesili Speaks On Arrest, Police Reacts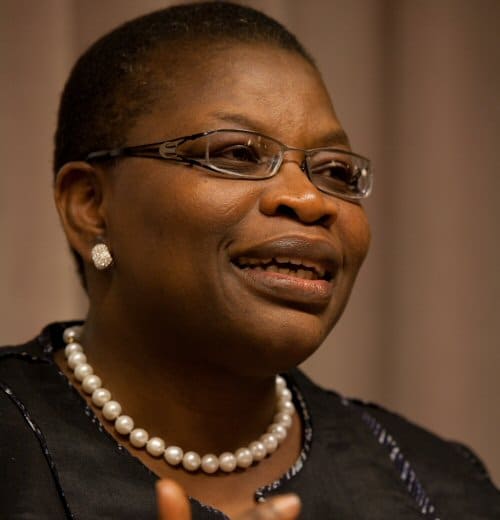 A former Minister of Education and the convener of BringBackOurGirls (BBOG) movement, Dr. Oby Ezekwesili, said on Tuesday that she and some members of her group were arrested and detained by the police in broad daylight in Abuja.
Ezekwesili, yesterday announced her arrest via her Twitter handle, that she and other members of the group including Aisha Yesufu were arrested while the police refused to state the reason for the arrest.
In one of her tweets, she wrote, "I have been arrested along with the rest of our BBOG members and now detained without a charge by the [email protected] We are detained at the FCT command. The police here have refused to tell us why we are detained."
After her release alongside other BBOG members from detention, the spokesman of the movement, Sesugh Akume, claimed that the police "abducted" and took them away in their patrol vans to the Maitama Police Station and later to the FCT police command.
He said, "They grabbed us, dumped us in their van and we asked if it was an arrest, but they said it wasn't an arrest. They took us to the Unity Fountain and asked us to get down, we said no, then they took us to the Maitama Police Station and then to the FCT police command. We walked to the gate and they locked us in and prevented us from leaving."
"We stayed for like an hour and then the Commissioner of Police said we were free to go. We are going to take this up, we have already discussed with our lawyer, Femi Falana," he said.
The police spokesman, Anjuguri Manzah, in a statement, however, denied that BBOG members were arrested, saying they were only taken to the command to prevent a breakdown of law and order.
Manzah said, "The FCT Police Command wishes to clear the air and set the record straight that it did not arrest or detain Mrs. Oby Ezekwesili and some members of the BringBackOurGirls group as being speculated on some social media platforms."
"It is pertinent to state that they were only brought to the command to ensure there was no breakdown of law and order as some members of the group reacted violently and broke down security barriers set up by the police to restrict their protest to the Unity Fountain," he said.
Manzah therefore, said that the BBOG members were addressed by CP Sadiq Bello, who urged the members to go about their lawful business, adding that the command was committed to protect lives and property.
Source: Naija News