Monarch crushes wife to death with Jeep in Lagos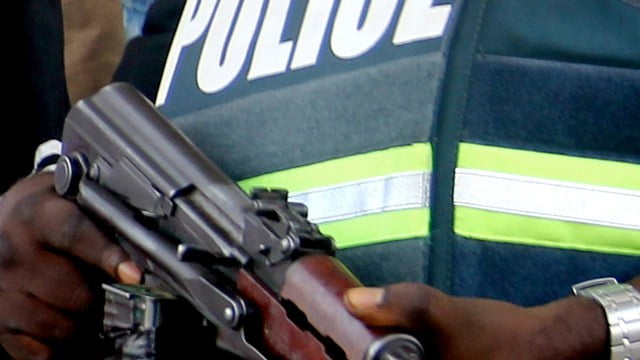 Monarch knocks down wife with jeep.
A traditional ruler in Ise Town, Ibeju Lekki, Lagos State, Taibu Ogunbanjo, has been remanded in police custody for allegedly crushing his wife, Rotimi Ogunbanjo to death with his Jeep.
Naija News gathered that Taibu and his wife's marriage had been full of fights since they got married three years ago.
It was learnt that tragedy struck on Thursday, December 7, 2017, after the couple had a disagreement, Rotimi reportedly went to the monarch's block moulding factory at Folu community in Ibeju and damaged some blocks.
Taibu reportedly entered his Toyota Highlander, and was driving out of the premises with fury when he hit his wife.
A source, simply identified as Akinsipe said the wife died on the spot and that the corpse had been deposited at the Epe General Hospital.
Akinsipe added that the monarch was arrested after the matter was reported at the Akodo Police Station.
"He (Taibu) is the baale of the community. He and his wife had been having issues since they got married. I did not know what actually happened between them on that day, but I learnt that they had a disagreement in the morning.
"She went to his block factory and destroyed some blocks arranged on the premises. He entered his vehicle angrily and as he was driving out of the premises, the wife tried to stop him. He hit her and she died on the spot," he said.
A police source told Punch that the suspect's family reported at the police station that the death was an accident.
"The baale and the woman got married three years ago without a child and they had been having disagreements. On that particular day, she destroyed some blocks at the industry. The man became angry and as he was driving out, he crushed her with his vehicle on the factory premises.
"The relations of the suspect have said that it was a case of an accident. But looking at the circumstances surrounding the incident, the accident claim is untenable. He could not have lost control of the vehicle on the premises as a result of speeding. There is a limit to the speed the car can go on the premises," the source said.
The Lagos State Police Public Relations Officer, SP Chike Oti, said the command would investigate the matter to ascertain the reason behind the baale's action.
"We are investigating the matter to find out what transpired between the man and his wife before the incident happened. They were having family issues, which led the woman to the block industry to destroy things.
"We want to know whether what the man did was a reaction to what his wife did. We believe there is more to the 'accident' than meets the eye because there was an altercation between them before the incident occurred," Oti said.
Source: Naija News