We did not ban Olamide, 9ice, Davido's songs – NBC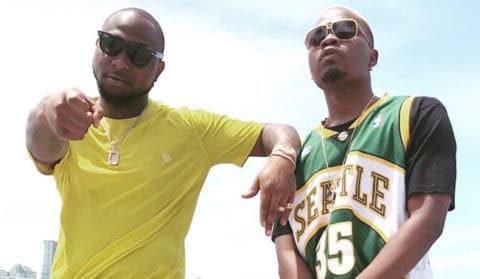 The National Broadcasting Commission (NBC) says the commission did not ban the songs of Olamide, Davido and 9ice from being aired.
The NBC said its responsibility is not to ban songs, but to ensure that songs laden with vulgar lyrics and visuals are not aired by virtue of the broadcasting law, radio and television stations.
The Director of broadcast monitoring, Idachaba Armstrong, told TheCableLifestyle that a ban notice of 'Wo' and 'Wavy Level' by Olamide, 'Fall' by Davido and 'Living Things' by 9ice did not come from the NBC.
It will be recalled that the ban notice, which was issued by the National Broadcasting Corporation, had been making rounds on social media for some days.
Reacting to the speculations, Armstrong said: "First of all, NBC is a commission, not a corporation.
"Nobody at NBC issued a statement to the effect. We can't be issuing a statement on every album released in his country. The broadcaster has the responsibility to do the needful.
"NBC does not ban songs, we don't have any business with the artistes. It is left for NBC to tell stations to ensure the songs and videos are fit for broadcast before putting them on air."
Read also: Buhari orders service chiefs to tackle IPOB and Boko Haram
"The whole idea of offensive vulgar lyrics. It is the responsibility of broadcasters to ensure they don't come on air. They are supposed to do what is called gate-keeping and they should have editorial control over their content but broadcasters now carelessly air songs without exercising that editorial discretion.
"They abdicate that responsibility and then expect us to start chasing them."
The director however, said he has ascertained that the songs in question are "actually offensive".
He said: "I have reliably gathered that some of those songs are actually offensive, regarding the lyrics. Some of these songs are for clubs.
"These stations that should practice self-regulation are lazy and unprofessional in their conduct."
Read also: Charles Ogbu lambastes President Buhari over his nationwide address
Armstrong said broadcast stations are aware that any lyrics or song containing offensive content cannot be put on the air, adding that any station found violating the broadcast code will be sanctioned.
Explaining how the process of sanctioning a broadcast station works, he said: "Once NBC picks it up, we call the stations to order and impose the necessary fine. First, we caution you, then impose a fine afterward, which can be between N50-N100k. But if they are recalcitrant, it can rise to N500k."
Since the news of the purported ban hit the internet, fans and several entertainers have heavily criticised the commission.
Fans of the artistes have also mixed up the alleged ban with the ministry of health's notification that Olamide's video for his hit song 'Wo' contains "dangerous public health content".
Read also: Six-year-old boy paralysed by Boko Haram gets medical help
The ministry had on Sunday notified the public via Twitter that some of the scenes in the rapper's video violated the 2015 tobacco act.
"The content & video contains scenes that violates the ban on Tobacco Advertising, Promotion & Sponsorship provision of the act #ClearTheAir," one of the tweets had read.
According to the 2015 tobacco control act, the advertising, promotion or sponsorship of tobacco or tobacco products "shall attract a fine of not less than N3,000,000 and a term of imprisonment of not more than one year".
The rapper however, on Tuesday took to Twitter to state that he did not intend to promote tobacco in his video.
Source: Naija News