Obiano Inaugurates Re-election Campaign Team against IPOB's Wishes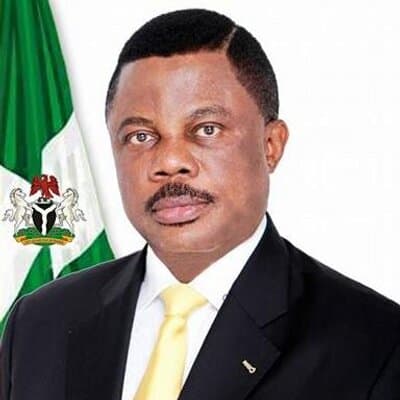 – Ex-National chairman of APGA leads the campaign fro Anambra Governor, Obiano's re-election.
-Anambra Governor commended for doing well in the state.
A former National chairman of APGA, Chief Victor Umeh, is set to lead the re-election bid of Gov. Willie Obiano of Anambra in the Nov. 18 governorship poll in the state.
Umeh, appointed as the Director-General of the campaign, was sworn in with others in Awka on Tuesday.
Other members of the team are the Deputy Governor of Anambra, Dr Nkem Okeke, members of the National Working Committee of APGA, Willie Obiano Support Group, APGA Youth and Women wings.
The inauguration comes weeks after the Indigenous People of Biafra (IPOB) issued a threat urging the people of the state to boycott the forthcoming election.
While speaking at the inauguration, Obiano urged the team to be dedicated and put in effort to mobilise the people for APGA and his administration.
READ ALSO: IPOB Members Confront Governor Obiano In Church, Chant 'No Election In Anambra'
He asserted that the people were specifically selected and that he would rely on their strategies to make progress in the campaigns.
He enjoined members of the team not to be bothered by the crisis in the leadership of APGA as the matter had been settled by the courts.
In his acceptance remark, Umeh pledged the determination of members of the team to ensure the re-election of the governor.
He said Obiano had done well and deserved a second term.
READ ALSO: Anambra C.P. Says Police Almost Opened Fire on IPOB Members
He promised that the committee would engage in serious grassroots mobilisation and information dissemination on the good works of the governor.
Umeh's actions are against the Indigenous People of Biafra (IPOB) agitation against holding elections on November 18.
Earlier, IPOB members had on Sunday confronted Governor Obiano, protesting against elections, afterwhich the State Police warned the group not to cross the line.
Source: Naija News