The Economic and Financial Crimes Commission (EFCC) under the watch of Ibrahim Magu, suffered a setback this week in its fight against corruption in the country. Three different high courts of justice passed rulings in favour of people been tried by the EFCC.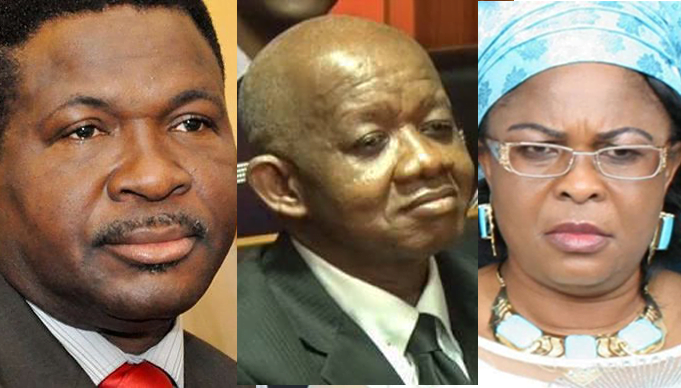 The Chief Mike Ozekhome Case
The first judgement involved a Senior Advocate of Nigeria, Chief Mike Ozekhome, Justice Anka had on February 7 ordered a temporary forfeiture of N75 million found in Mr. Ozekhome's Guarantee Trust Bank account. but in a new twist of ruling, Justice Anka vacated the interim freeze order, and dismissed the opposing counter-affidavit of the EFCC.
The judge said although it was not in doubt that the said sum of money emanated from the Ekiti State Gov., Ayodele Fayose, Mr. Ozekhome could not be held liable.
He held, "There is no argument whatsoever as to the source of the funds as rightly argued by learned counsel for the EFCC, Mr Rotimi Oyedepo.
"The question is, can the respondent/applicant be liable for any infraction as at the time he received the amount in his account?
The Justice Adeniyi Ademola case
A High Court of justice in FCT  has dismissed an 18-counts gratification and illegal possession of firearms charge  filed against Justice Adeniyi Ademola, his wife Olabowale and Joe Agi (SAN) by the Federal Government
The trial judge, Justice Jude Okeke, in is ruling on the no-case submissions filed by the three defendants, held that the prosecution has failed to establish any prima facie case against the defendants and therefore
"no justifiable reason to call on the defendants to enter their defence."
"The matter is therefore resolved in favour of the defendants and all the defendants are hereby discharged", Justice Okeke ruled.
The Patience Jonathan Case
A Federal High Court in Lagos yesterday unfroze former first lady Patience Jonathan's account containing $5.9m initially frozen by the Economic and Financial Crimes Commission.
Adedipe urged the court to unfreeze the account on the ground that Patience Jonathan was not a party in the suit leading to the order made by the court. Mr Adedipe while citing judicial authorities contended that the order was an abuse of court process as the court has no jurisdiction to make an order against a party that is not a party in a suit filed before the court.
EFCC and the Media Trials
Considering the pace at which the anti corruption agency has lost its trials in a week many questions are begging for answers. But the most pertinent of this questions are;
Is this a case of corruption fighting back through the judges?
Does the EFCC have a genuine case against those on trial or its just an issue of witch hunting?
If the EFCC has a genuine case why has it resorted to media trials instead of a through investigation before allowing the cases go to public view?