El-Rufai: That Vile, Vexatious, Viscera And Vicious Video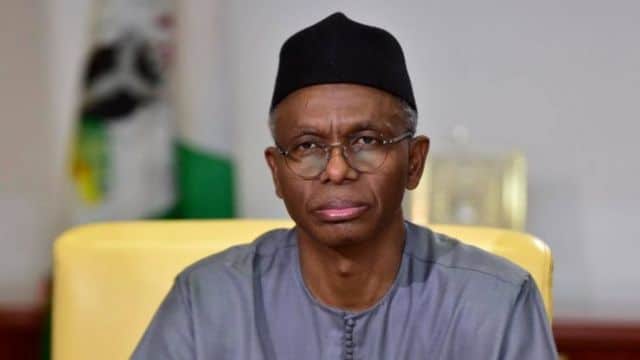 It beggars belief why someone to whom his country has given so much will turn around to orchestrate the shortchanging of his country, even if in the remotest sense. This is how we can situate the trending provocative rhetoric of former Kaduna State Governor, Nasir El-Rufai, taped in a video. His offensive tantrums aren't just an assault on Christians but the country at large. For starters, he test-ran such a misguided system in Kaduna and the state is yet to recover from the fallout. It is the height of incorrigibility and intransigence for the man to continue pushing or be triumphal over a principle that clearly overwhelmed his governing of the state. (oxfordbusinessgroup.com)
A viral video caught El-Rufai telling a congregation of Muslim clerics (in the Hausa language) in Kaduna that: "Despite all the ethic gathering and despite the use of religion, God gave Asiwaju Tinubu victory in the 2023 general election. What we successfully did in Kaduna (Muslim-Muslim ticket) has now been replicated all over the country." He was further quoted that Tinubu's triumph at the polls has silenced the Christian Association of Nigeria, adding that he will sustain an Islamic-dominated government for 20 years and unending not only in Kaduna State but in Nigeria at large. Some other comments he was reported to have said in the video are too obnoxious and repulsive to be repeated here.
Such words will certainly not come from someone who wishes their country well, let alone someone eyeing an appointment or election into sensitive federal positions. It boggles the mind how El-Rufai could be this petty and myopic gloating to have scored the goal with a highly discredited and disputed election. Events surrounding the conduct of the 2023 general election are certainly not what any sane mind would use in affirming any hypothesis about any religious dominance in Nigeria. Apart from what Nigerians saw in the field and at collation centers, the number of petitions before the election tribunals and inherent expositions is enough evidence that whoever is relying on INEC's announced outcome is just delusional.
This perhaps explains why the target of El-Rufai's bigotry has simply ignored him, opting not to join him in the mud. But for us, the sentiments he expressed in that video are too vile, vexatious, viscera and vicious to be overlooked. This is particularly when the audience is taken into consideration. He carefully opted to speak before thought leaders and opinion shapers who have what it takes to sway votes in a particular part of the country during general elections. By the time such sentiments get propagated and assimilated, the competence and credibility of candidates would no longer matter to the brainwashed. Now you can see how politicians destroy the country through religion which has been rightly identified as the opium of the masses. How we wish those religious leaders saw through the former governor's plot to remain relevant and embrace the East African philosophy of Ubuntu in line with the truth that they are because Christians are.
This higher standard, which seems beyond El-Rufai and other extremists and bigots, is exactly what Nigeria sorely needs to emerge from the current tailspin. Ever since the emergence of this video and its transcription, conscientious Nigerians and this newspaper hoped that El-Rufai would disown it, walk back what was said in that footage, or even issue an apology but the man has maintained a loud silence! If he considers such a reputation of himself as a badge of honour or a means of being the masses' messiah in furtherance of future political ambition, Nigerians now know better.
Doesn't it smack of stupidity for a father to willfully reduce the number of his children or the vastness of influence by playing the exclusionist game of us verse them? The video has among other things shown that the politician was not altruistic or sincere while pushing for a power shift to the South in the build-up to the 2023 presidential polls. Who knew that the whole posturing was merely to make a religious statement? And if this statement was the overriding objective, it then means that he and his co-travelers weren't actually interested in working for the candidate that's best for Nigeria. Oh, how these people can sacrifice their country at the drop of a hat!
The ex-governor whose administrative acumen is extolled by some, and sometimes parades himself as a progressive, should at least explain his angle for being cavalierly triumphal at a time Nigerians are yet to heal from the ethnic and religious baiting that surrounded the 2023 electioneering. That a person is an accidental public servant doesn't mean they shouldn't grow into the role and conduct themselves in the fashion of a statesman! If those who are at the receiving end of this offensive posturing are as irascible as the ex-governor's ilk, the war situation in Sudan would have been child's play compared to what would have become of Nigeria.
As he prepares to constitute his government, this newspaper enjoins President Bola Tinubu to avoid appointing people with extreme religious leaning into national offices. While some have called on him to publicly disavow and distance himself from the views expressed in that offensive video, Tinubu would be endorsing the barefaced bigotry by appointing the bigot into his government. Since they have shown their clannishness, let them be content operating within that level not in a national government where they are supposed to patriotically serve every Nigerian irrespective of their tribe or creed. Settling of political IOU shouldn't force the President into making an appointment that will further ostracize a critical segment of the population.
Naija News lauds those Nigerians and interests who have maintained their cool in the face of extreme provocations. The truth remains that the country and its inherent opportunities cannot be solely appropriated by any grouping or sect. Even when it seems to favour some at the moment, it will be some other people's turn in the future. At least, those who got the short end of the stick in El-Rufai's 8-year rule in Kaduna State have today seen the back of his government. They may have been bent but are not broken. The fact that tides always turn means no one should lose sleep or be carried away with the fantasy of the status quo remaining the same for the next 20 years or beyond. Those with such an imperialist or hegemonic mindset only need to introspect on what has become of Vincent Ogbulafor and his Peoples Democratic Party after boasting that the PDP will rule Nigeria for the next 60 years!