Fuel Subsidy: NNPC MD, Kyari Reveals Tinubu's Plan For Refinery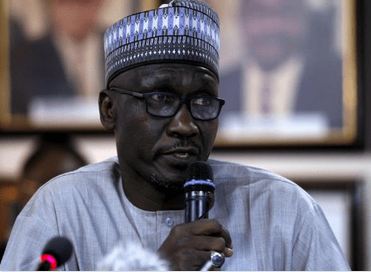 The Group Managing Director of the Nigerian National Petroleum Company Limited (NNPC), Mele Kyari has announced that one of Nigeria's four oil refineries will be fully functional by the end of the year.
This information was shared during his meeting with the National Chairman of the All Progressives Congress, Senator Abdullahi Adamu.
Kyari was warmly greeted by the chairman and members of the National Working Committee when he arrived at the party secretariat for the meeting.
Following the meeting, Kyari acknowledged the recent surge in pump prices and its subsequent impact on public transportation fares.
He confirmed that President Bola Tinubu is devising measures to lessen the burden on Nigerian citizens.
Kyari stated, "I'm aware that Mr president has directed some engagements and some palliatives will be put in place. I am very sure this will happen."
He also added, "One of them will come this year, the second one will come on stream next year and then the third will follow thereafter," referring to the planned rehabilitation of the refineries.
Recall President Tinubu had previously stated that his administration would not continue to subsidize petroleum products.
This decision led to a significant increase in transportation fares and sparked panic buying and scarcity at fuel stations across major Nigerian cities.
In response to this crisis, Kyari confessed, "Of course, it is very obvious that we can no longer afford subsidy. Subsidy bills have piled up… pricing this petroleum at the market price is the right thing to do at this point in time and I believe it would benefit the country in the long term."
He further disclosed that over 38 per cent of the total fuel distributed in Nigeria is consumed by Lagos, Abuja, Kano, and Rivers states, hinting at a skewed consumption pattern.
He warned, "If we continue, we will run into defaults and the defaults of NNPC is the default of Nigeria."
Kyari agreed that the price hike would impact inflation but suggested that market forces would determine what happens next.
He emphasized, "Mr president's target is to have seven per cent growth of GDP. You cannot have it if you have this disruption in your demands and consumption pattern."
Finally, he highlighted that once President Tinubu announced the removal of the subsidy, "In 24 hours, the bond market appreciated. It is nothing else other than the statement around subsidy and balancing of the apex market."