Akpabio Speaks On Looting N1 Trillion As Akwa Ibom Governor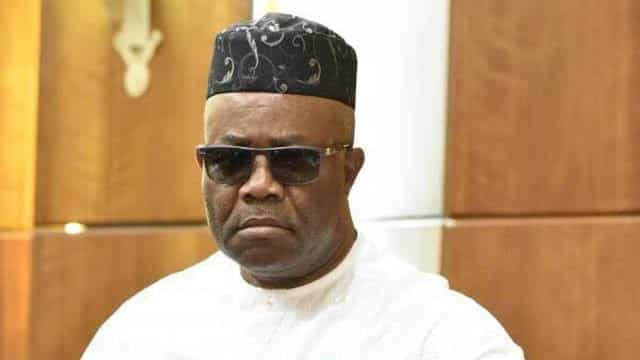 Former Niger Delta Minister, Senator Godswill Akpabio has refuted an allegation that he looted over N1 trillion while he was the Governor of Akwa Ibom State.
Naija News reports that Akpabio was reacting to a statement by a Civil Society Organisation, Network Against Corruption And Trafficking (NACAT) that he should be probed by the Economic Financial Crimes Commission (EFCC) over alleged financial impropriety.
Speaking at a news conference on Tuesday in Abuja, the Executive Director (Legal) of NACAT, Justice Ojefia, said an audit report of the Akwa Ibom State treasury between 2011 and 2015 indicated that Akpabio allegedly looted over N1 trillion while serving as governor.
Ojefia also claimed that Akpabio looted over N200 billion Niger Delta Development Commission (NDDC) funds as a minister.
But in a statement on Tuesday, Akpabio's media aide, Jackson Udom, described the allegations as a plot to blackmail him out of the contest for the 10th Senate Presidency.
Udom also refuted the allegations, saying that every public officer could be investigated after leaving office which is the right thing to do.
He said: "Investigation is no conviction. Every public officer could be investigated after leaving office and that is the right thing to do.
"Sen. Akpabio left office eight years ago after a meritorious service to Akwa Ibom and his legacies and performance as the state governor from 2007-2015, are still visible in the state.
"The question then is, why this letter to the EFCC now? Why all these blackmail and lies now? The answer is not far-fetched.
"Akpabio wants to be Senate President, he remains the candidate to beat and he must be brought down at all costs by those who can't match his acceptance by his colleagues.
"His colleagues in the Stability Group are working round the clock to make him the Senate President of the 10th Senate, through the support of their colleagues across party lines.
"Their major concern is to give stability to the President-elect's administration when it comes on stream on May 29, 2023.''