Confusion As Source Confirms Emefiele's Alleged Plot To Flee Nigeria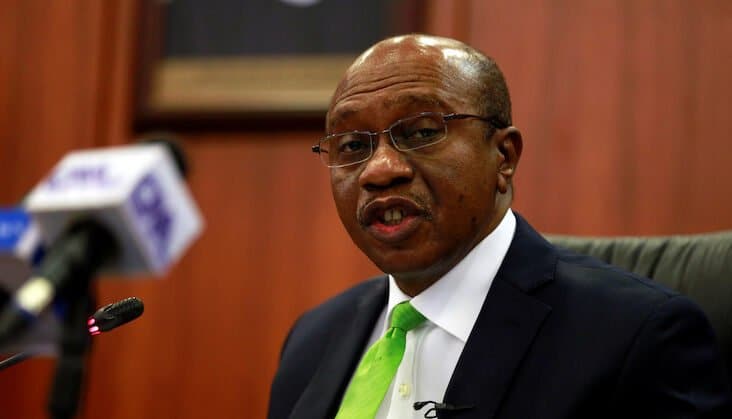 The financial industry and Nigerians were hit with a report that President Muhammadu Buhari had granted Central Bank of Nigeria (CBN) Governor Godwin Emefiele study leave.
An online news platform had claimed Emefiele applied for study leave as a means to flee the country before the May 29 assumption of office by President-elect Bola Tinubu.
The report claimed that the Department of State Services (DSS), which attempted to arrest and detain Emefiele in the past over certain allegations against him, "kicked against the study leave reportedly granted to Emefiele as it means he will flee the country before May 29 when another government comes in."
But sources in the presidency and the apex financial institution denied any study leave approval by Buhari.
Responding to The Nation in a short message on the topic, Senior Special Assistant to the President on Media and Publicity, Mallam Garba Shehu, said: "If the Governor of the Central Bank of Nigeria (CBN), Godwin Emefiele, has been granted study leave, supposedly, by President Muhammadu Buhari, this is unknown to us.
"It is also unknown to the President's Secretariat, headed by the Chief of Staff."
A source in the CBN also denied knowledge of such approval by the President.
However, another Presidency source informed The Nation that there was an application from Emefiele seeking approval for study leave overseas.
"I heard the CBN Governor applied to the President for study leave, but I don't know if the President has granted the application," the source said.
Close associates of Emefiele disclose that he had confided in some of his aides that he intends to serve his second term as the apex bank's chief.
Emefiele was in Lagos on Tuesday for the third biannual non-oil export summit in Lagos with the theme: "RT200: Challenges and Prospects to Success."
Recall that Emefiele was appointed by former President Goodluck Jonathan in 2014 and appointed for a second term by Buhari in 2019.
The current deal runs till June 2024.