How Achraf Hakimi Escaped His Wife's 50% Divorce Claims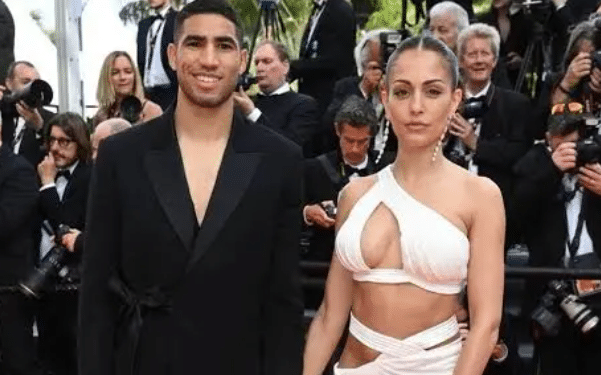 Achraf Hakimi has never really been a controversial footballer since he hit the limelight after going on loan to Borussia Dortmund from Real Madrid in 2018. But in 2023, he has projected a different personality of himself and his career to the world.
How the Achraf Hakimi's saga started
In March, a report went viral that prosecutors in France were investigating Achraf Hakimi for allegedly assaulting an unnamed victim sexually.
To add to the viral reports, the prosecutors invited him for questioning, and a suit was filed against him afterward.
Despite the allegation, Hakimi was allowed to continue playing for PSG and travel out of France when necessary.
Reports in France claimed that Achraf Hakimi allegedly assaulted the victim when his wife Hiba Abouk was on vacation with their two kids.
Hakimi's Wife's reaction
After the news went viral that Achraf Hakimi has been accused of rape, his wife, Hiba Abouk decided to separate herself from the Moroccan footballer.
Afterward, she decided to file for divorce over the rape saga even though her husband had said he wasn't guilty and the court is yet to find him guilty.
In her divorce claims, Hiba Abouk asked the court to end her marriage with the footballer and share the footballer's wealth in two, one for her, and the other for the footballer.
The smart play from Achraf Hakimi
During the court hearing, the court broke the heart of Abouk further when the court announced to her that Achraf Hakimi has nothing to share.
Nothing to share! Well, no one will believe this because Hakimi has played for Real Madrid, Dortmund, Inter Milan, and Morocco at the 2022 FIFA World Cup, and is currently at PSG. How does he not have something to share?
To make it more shocking, Hakimi earns a whopping €1.2 million per month (€280,000 per week) so how come he has nothing to share?
Well, the court told Hakimi's wife that 80 percent of the footballer's wealth is registered under her mother's name, Sadia Mouth, which means that the footballer is only controlling 20 percent of his wealth.
Hence, if the court has to share the wealth of the footballer between him and his estranged wife, it has to be the 20 percent under his control.
No one knows yet why the 24-year-old footballer decided to register 80 percent of his wealth under his mother's name but whatever the reason was, Hakimi and his mother will be very excited over the move right now.