Anthony Joshua Reacts To Possible Bout With Tyson Fury In 2023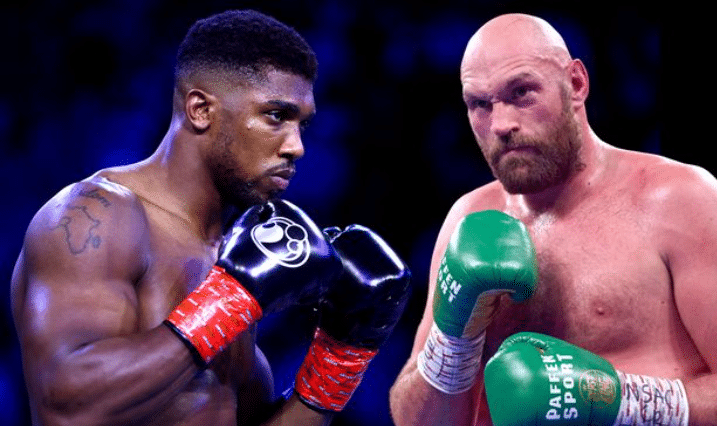 Nigerian-born British boxer, Anthony Joshua, has reacted to the possibility of fighting fellow Brit boxer, Tyson Fury, saying if the fight would happen, Fury's team and his would engage in fierce negotiations.
Naija News recalls that Anthony Joshua and Fury almost fought last December but the talks collapsed abruptly. Fury went on to fight Derek Chisora instead of Joshua.
Also, Fury was on the verge of fighting Ukrainian reigning heavyweight champion, Oleksandr Usyk but the negotiations collapsed last week after the two sides had agreed on how to split the purse.
The purse split was said to be the most controversial of the negotiations as Fury insisted on a 70/30 split which means that the winner would take 70 percent of the revenue generated while the loser takes 30 percent.
Before the Fury Vs Usyk proposed fight collapsed in March, Anthony Joshua's promoter, Eddie Hearn, had made it known that he wouldn't mind if Joshua fights Fury this summer if his proposed bout with Usyk fails.
After the proposed bout failed, Joshua who is having a must-win comeback bout against American boxer Jermaine Franklin in April said he doesn't have a problem-fighting Fury but can't accept a 70/30 purse split.
"I'll tell you what, if he is doing a 70/30 split for an undisputed heavyweight world title fight, to an already undisputed cruiserweight and unified heavyweight champion, imagine what he is going to try to offer me. It's just a nightmare", Joshua said.
"But when that fight happens, God willing it does, then my management and promotional team will be in my corner, they will back me, they know what I bring to the table.
"They would negotiate fiercely to make sure I get a lion's share of what's on the table."