Naira Scarcity: Latest CBN News, Update On Naira Notes For March 22nd, 2023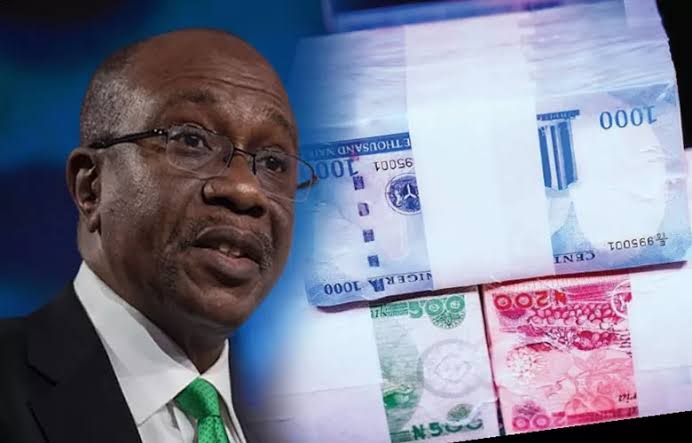 As the controversy associated with the new naira notes rages on, Naija News brings you the latest update on the controversial policy of the Central Bank of Nigeria (CBN).
The Central Bank of Nigeria (CBN) governor, Godwin Emefiele has hinted that Nigerians would have to adapt to the new cashless policy regime.
This he stated on Tuesday during a press briefing in Abuja at the end of the Monetary Policy Committee (MPC) meeting.
While apologizing for challenges he called isolated cases in the use of the various e-payment platforms, the CBN governor insisted that the cases were being resolved.
Emefiele said the glitches been experienced will soon become a thing of the past.
Nigerian Banks Are Safe
Responding to questions about how the recent collapse of several banks in the United States of America may impact banks in Nigeria, Emefiele said Nigerian banks are safe and sound as they have zero exposure to the failed banks in the USA.
According to Emefiele, "no depositor has lost one kobo since 2008 from bank crisis because of the prudential guidelines put in place to protect depositors fund."
President Muhammadu Buhari should order the Central Bank of Nigeria (CBN) Governor, Godwin Emefiele, to supply commercial banks with both the old and new naira notes.
The pan-Yoruba socio-political organisation, Afenifere, stated this in a statement on Monday by its National Publicity Secretary, Jare Ajayi.
Afenifere said it was surprised that despite the comments made by the President last week that he was not against the order of the Supreme Court, his directives have not been fully complied with.
It also expressed concerns over the scarcity of naira notes following the directive by the apex bank that all the commercial banks should obey the Supreme Court judgement extending the deadline for old notes till December 31.
The organisation noted that reports from various parts of the country indicated that people were still finding it very difficult to obtain cash from banks and points of sale (POS) operators.
The Monetary Policy Committee (MPC) of the Central Bank of Nigeria (CBN) voted for a rise in the benchmark interest rate by 50 basis points to 18% on Tuesday.
Naija News reports that the governor of the apex bank, Godwin Emefiele, disclosed the new development while reading the communiqué of the second MPC meeting of the year.
According to him, the committee voted to keep the asymmetric corridor at +100 and -500 basis points around the MPR.
Emefiele, while speaking to pressmen after the two-day MPC meeting explained that the slight hike is to prevent the effect of inflation and other economic issues.
The CBN boss said, "The MPC committee voted to raise the MPR by 50 basis points to 18%, retain asymmetric corridor at +100 and -500 basis points around the MPR."