Rivers State: Fubara, Itubo, Abe, Cole, Lulu Briggs Battle To Succeed Wike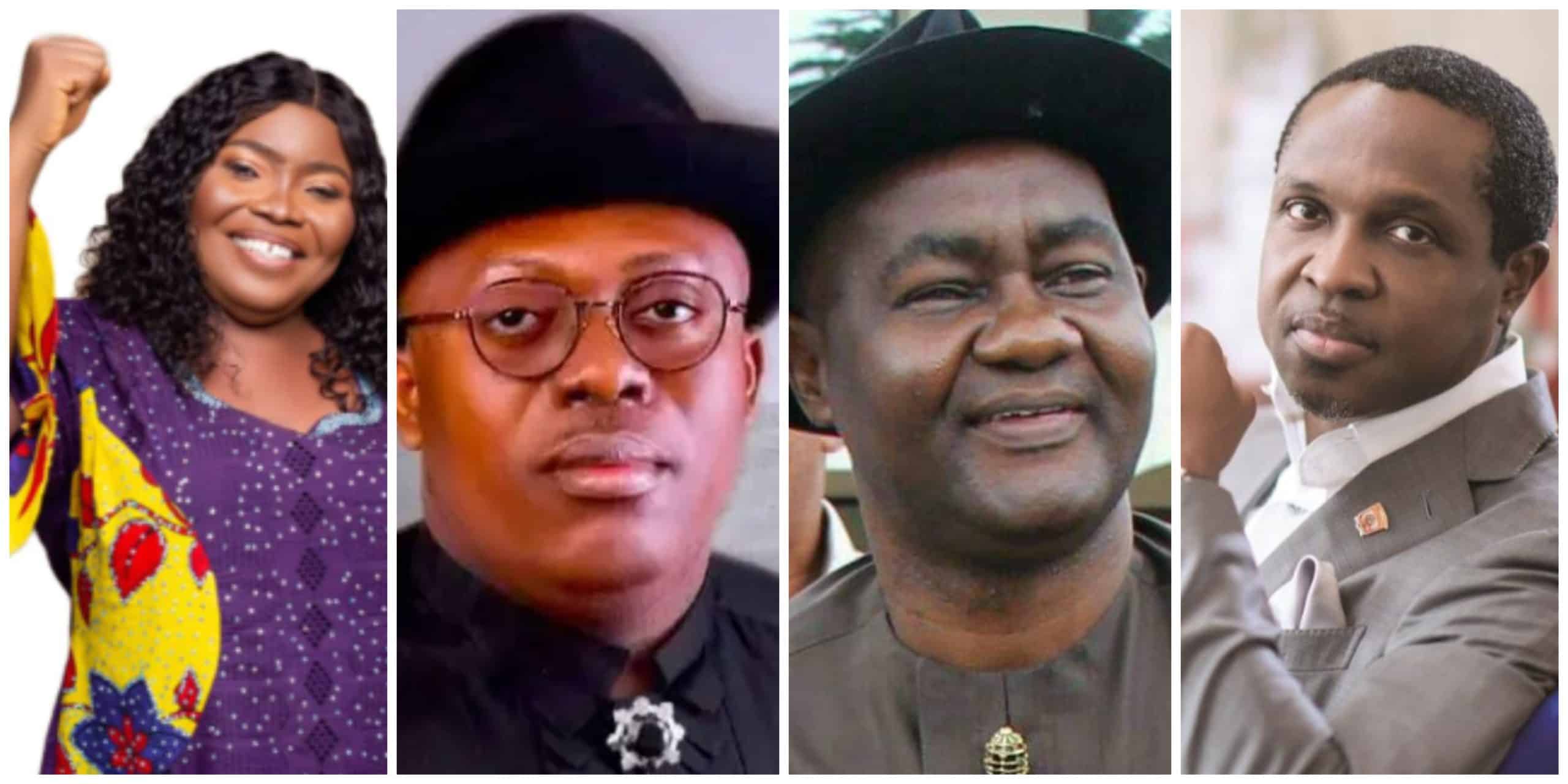 The battle for who would govern the oil-rich Rivers State will be settled in about 72 hours' time when about 3.2 million electorates cast their votes.
The contest in 23 local government areas would see the All Progressives Congress (APC), Peoples Democratic Party (PDP), Accord Party, Social Democratic Party (SDP), Labour Party, and others slug it out on March 18th, 2023.
The country's attention would be on Rivers State, owing to its importance to the nation and its volatile political environment.
Those contesting to succeed the controversial and vocal Governor Nyesom Wike are listed below.
Accord Party – Dumo Lulu-Briggs
Lulu-Briggs holds a Master's degree (LLM) in Law from the London School of Economics (University of London). He is the Chairman and chief executive officer of DLB group, a company interested in oil and gas and marine. The businessman had contested governor in 2019 under the same Accord Party. Lulu-Briggs was the former Chairman, Governing Council, Maritime Academy of Nigeria, Oron, and former Chairman, Board of Management, Federal Medical Centre, Owerri. He hails from Abonnema in Akuku Toru LGA.
APC – Tonye Cole
Pastor Tonye Patrick Cole has a degree in Architecture and Engineering, and he is a Harvard Business School Scholar. Cole, a Pastor in the Redeemed Christian Church of God (RCCG), is the anointed candidate of the former Minister of Transportation, Rotimi Amaechi. Cole is the Co-founder and former Group Executive Director of Sahara Group, an energy company with operations across Nigeria and neighboring West African countries to East Africa and beyond. He is a member of the Private Sector Advisory Group of the United Nations Sustainable Development Fund (UN SDG-F), and he was appointed to the World Bank Group's (WBG) Expert Advisory Council on Citizen Engagement. He also hails from Abonnema for Akuku Toru LGA.
Labour Party – Beatrice Itubo
Itubo was a two-term Chairman of the Nigerian Labour Congress (NLC) in Rivers State. She is the only female candidate in the 2023 governorship election in Rivers State. Beatrice is a former Chairperson of the Medical and Health Worker Union of Nigeria, River state branch. She was also the former Treasurer of the Nigeria Labour Congress, River State, and a Pioneer Board Member of the Primary Healthcare Management Board. She comes from Abua, for Abua/Odual LGA.
PDP – Siminialayi Fubara 
The anointed candidate of Governor Nyesom Wike, Fubara, is a chartered accountant. He has a Master's degree in Finance, Business Administration. Sim Fubara is also a former director of Finance, former Permanent Secretary, and former Accountant General of Rivers State. The PDP candidate hails from Opobo in Opobo/Nkoro LGA for Rivers South-East Senatorial District.
SDP – Magnus Abe
A former senator representing Rivers South-East, Abe is a lawyer. He was a former member of Rivers State House of Assembly, former Commissioner for Information and Communications, former Secretary to Rivers State Government, and a former Board Member, NNPC. Magnus Abe hails from Bera for Gokana LGA.