Call For Adamu's Resignation, NASS Leadership Top Agenda As Senators-Elect Meet Tinubu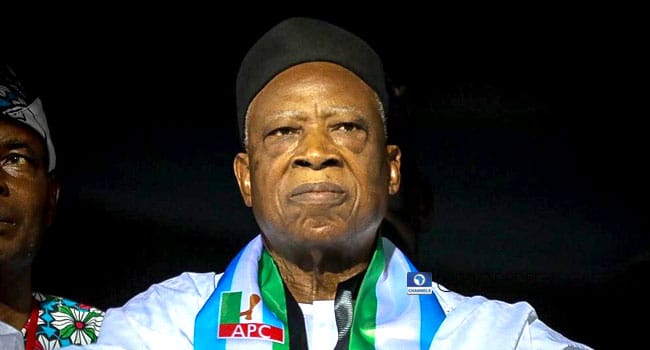 Senators-elect and members-elect of the House of Representatives are expected to meet with the President-elect, Bola Tinubu today in Abuja.
Some of the elected lawmakers as of Sunday were already in Abuja for the scheduled meeting.
Among those in town are the Senate President, Ahmad Lawan; the senator representing Ekiti Central Senatorial District, Senator Opeyemi Bamidele, and Kano North senator-elect, Barau Jibrin.
Recall that the All Progressives Congress (APC) National Secretary, Iyiola Omisore in a statement released last week asked the elected lawmakers to come along with the Certificate of Return issued to them by the Independent National Electoral Commission (INEC).
The meeting is scheduled to hold at the State House in Abuja on Monday.
Although the agenda of the meeting was not revealed, a source at the APC secretariat that spoke with Punch said there would be consultation on the issue of zoning of the Senate Presidency, Speaker for the House of Reps and other principal offices of the National Assembly.
A senator-elect who spoke on condition of anonymity stated that the call for the resignation of the National Chairman of the APC, Abdullahi Adamu would be discussed.
This is coming days after the National Vice Chairman (North-West) of the APC, Salihu Lukman, asked Adamu to resign to allow a Christian takeover as National Chairman of the party.
The senator-elect speaking on the meeting said, "There were serious concerns before we went into the election and many of us believe that Adamu should resign to assuage the feelings of the Christian community towards our party.
"The calculation then was that our Christian brothers and sisters would soften their hard stance against our party if we produce one of them as the National Chairman of the APC.
"There were, however, superior arguments that such arrangements could only be put in place during the party's convention. It was also argued that it was not better to go into the election with a divided house.
"However, it was agreed that something urgent should be done about it immediately after our presidential and vice presidential candidates emerged victorious at the poll.
"I will not be surprised if the National Chairman comes to the meeting tomorrow (today) with his resignation letter in his pocket."