10 Burnt To Death In Tragic Accident On Oyo-Ogbomoso Road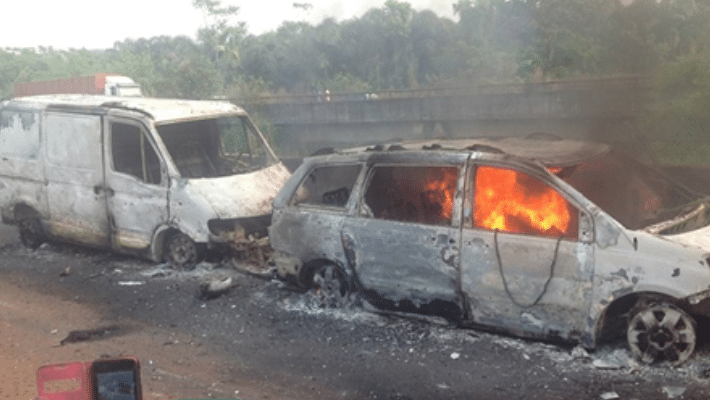 At least ten persons were reportedly burnt to death on Thursday in a tragic vehicle crash along Oyo-Ogbomoso Road.
Reports obtained by Naija News revealed that the accident involved two commercial buses.
The Federal Road Safety Corps (FRSC) confirmed in a statement that a Mazda and a Toyota Hiace bus with registration numbers LEM 963 XA and NSR 222 ZS, respectively, collided on the busy road on Thursday.
According to the FRSC Sector Commander in Oyo State, Joshua Adekanye, the incident occurred at about 5.30 a.m. around kilometre 12, Ijawaya, Oyo-Ogbomoso road.
He noted that the buses were coming from Lagos and Nasarawa states when the tragic incident happened.
Adekanye disclosed that the vehicles went on flame immediately, resulting in the burning of the occupants. He attributed the cause of the accident to speeding and overloading.
The FRSC boss called on motorists to always avoid night travelling, speeding and overloading, adding that the fatality would have been reduced if the drivers were not on night journeys.
Meanwhile, on Thursday, five persons reportedly died in a fatal motor accident along Badagry-Seme Expressway in Lagos State.
Naija News learnt that the accident happened around 9am today. Confirming the incident, the Unit Commander of the Federal Road Safety Corps at Badagry, Sulaiman Taiwo, said that the accident occurred at Akoro Village, on the Badagry-Sème Expressway.
According to Taiwo, the accident involved a Honda Pilot SUV with registration number LSR 772 HE and a motorcycle with an unidentifiable registration number.
Taiwo said the driver of the Honda Pilot must have been over-speeding and lost control before hitting the motorcycle laden with petrol.
"The driver of the jeep collided with the motorcycle resulting in an explosion.
"By the time we got to the scene, the raging fire had burnt three persons beyond recognition, while two others lost their lives during the rescue operation.
"Three persons that survived the inferno were taken to the General Hospital in Badagry while the five corpses were deposited at the mortuary in the same hospital,'' he said.
Taiwo added that the prompt response by personnel of the Customs Service, Fire Brigade, the Nigeria Security and Civil Defence Corps and the police restored normalcy to the area.