Naira Scarcity: Latest CBN News, Update On Naira Notes For Feb. 25, 2023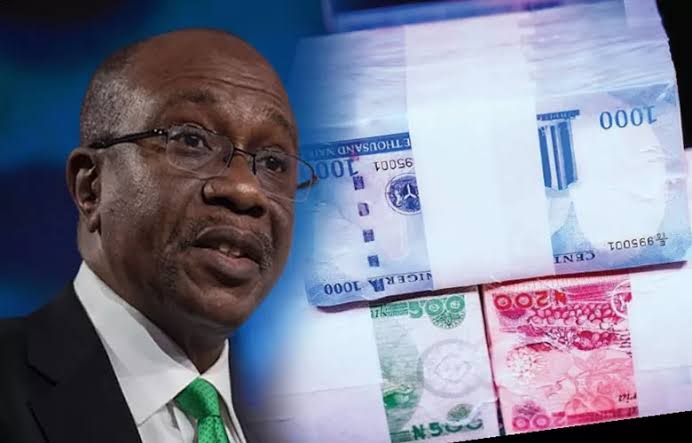 As the controversy associated with the new naira notes rages on, Naija News brings you the latest update on the controversial policy of the Central Bank of Nigeria (CBN).
The Central Bank of Nigeria (CBN) has announced the appointment of a new spokesperson in the person of Mr Isa Abdulmumin.
Naija News gathered Abdulmumin was appointed as the Acting Director of the Corporate Communications Department of the apex bank following the retirement of Osita Nwanisobi from service on Friday.
Abdulmumin, a Deputy Director, has been in the Corporate Communications Department of the CBN since he joined the bank.
It would be recalled that Osita Nwanisobi took over from Isaac Okorafor in 2020 and before then he was a special assistant to the Deputy Governor Financial System Stability (FSS) between 2009 and 2011.
The appointment is coming amidst the crisis created by cash scarcity following the naira redesign/cash swap policy introduced by the CBN.
The continued scarcity of the Naira has increased the hardship of many bank customers who are now forced to join long queues to withdraw N5,000 and has led to heated exchanges in the process.
In many of these banks, the Punch reports that many of the ATMs was not dispensing while customers at Zenith Bank Plc branches at First Avenue, FESTAC and First Gate, complained about how they were not able to get cash.
A bank official at the First Gate branch of the bank blamed network downtime for their inability to attend to customers.
The official said, "Our network has been down for some time, and we have not been able to do much."
At a Polaris Bank branch around the area, customers were being allowed to withdraw N4,000. Customers of both Fidelity Bank Plc and Access Bank Plc at their branches at First Gate, Old Ojo road confirmed that they were able to withdraw N5,000.
A customer, Ramat Aileru, at Access Bank said, "I came here at 7:00am and I got into the banking hall at past 11:00 a.m. I was able to get N5,000. I was paid with N200 old notes."
Another customer, Ijeoma Nwachukwu, stated that she was aiming to get N20,000 from all her accounts at N5,000 each.
At Fidelity Bank, a customer, who did not want his name in print, said, "I picked number 82. I have been to a church service and back. They have not gotten to my number."
As Nigeria goes to polls tomorrow, political parties have confessed to struggling to source cash for the payment of party agents and other mobilisation of logistics.
Naija News gathered from The Punch that officials of political parties like the All Progressives Congress (APC), the Peoples Democratic Party (PDP) and the New Nigerian Peoples Party (NNPP) have complained about how the new naira policy has affected them.
It was learnt that the Director of Strategic Communications for the APC Presidential Campaign Council, Idris Mohammed, submitted that there was no party that can boast of having bulk cash to pay its supporters for mobilisation and other logistics.
According to him, "It is a general problem as you know. We are not aware of anybody getting bulk money from our party. The FG has instituted a cashless policy and there is nothing we can do than to go with the policy. We have mentioned it here and the presidential candidate has also said over again that it is going to be a tough situation.
"This is not just for the election but for ordinary Nigerians. It is going to be hard for anybody to get cash."
Similarly, the Chief Spokesman for the NNPP Presidential Campaign Council, Ladipo Johnson, admitted to the APC's stand, saying not only political parties are affected but the general public.