2023 Elections: Oluwo of Iwo Says All Southwest Monarchs Are With Tinubu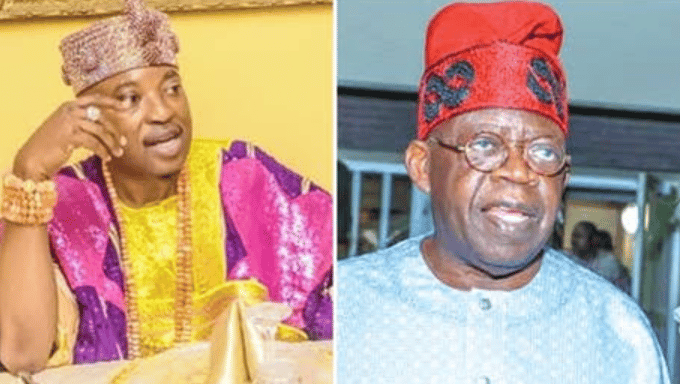 The Oluwo of Iwo, Oba AbdulRasheed Akanbi, has alleged that all the monarchs in the southwest are backing the presidential candidate of the All Progressives Congress (APC), Bola Ahmed Tinubu.
The Oluwo of Iwo insisted that all the Yoruba monarchs will support Tinubu in the forthcoming presidential election scheduled for February 25 since the former Lagos state governor is from the sub-region.
He argued that Tinubu's election as the next president is final because no one in the Yoruba nation has the power to disobey the directives of the monarchs.
Oba Abdulrasheed made this submission while speaking at the Yoruba and Southwest Leaders of Thought Summit on Monday.
He insisted that Tinubu is the son of the ethnic group, hence, those who belong to the group must support him, adding that in "Yorubaland, no one is older than a king".
He said: "We in Yorubaland cannot leave our son and vote for another person. We accept anyone in Afenifere who accepts Tinubu and renounce whoever does not accept him. We are king over such persons/people and we are saying it is Tinubu we want.
"The pronouncement by the Kings has erased whatever they are saying. Who in Yorubaland is older than a king? Anyone in my kingdom who says he is older than me would have to be patient because I am lord over him.
"I believe in the unity of Nigeria's existence and I believe this is our time. Even the north is with us. I am not someone who prays; if you need prayers go to the church or a mosque. I, as a king, make this pronouncement, let us vote for Bola Tinubu on February 25."