Nigerian Newspapers Daily Front Pages Review | Saturday 4th February, 2023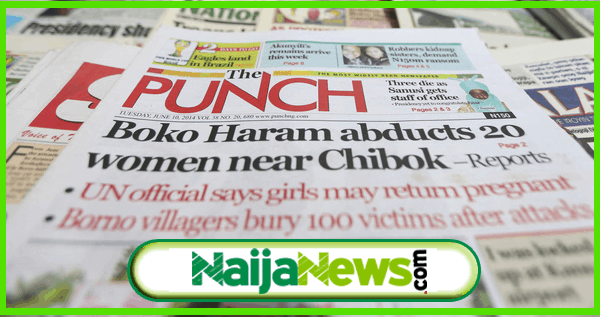 Naija News looks at the top happenings making headlines on the front pages of Nigeria's national newspapers today Saturday 4th February 2023.
The PUNCH: Some angry citizens, on Friday, condemned the Federal Government, the Central Bank of Nigeria and Deposit Money Banks for subjecting them to hardship over the scarcity of new naira notes and the astronomical hike in the pump price of petrol as a result of acute scarcity. While some vented their anger by embarking on street protests, others attacked bank branches and facilities.
---
The Guardian: Angry reactions have continued to trail the twin problems of lingering fuel scarcity and poor implementation of the Central Bank of Nigeria's (CBN) cash swap policy that have left many citizens cash strapped and unable to attend to their basic needs for about three days now. Many Nigerians who vent their frustrations to The Guardian lamented that while they were battling to adjust to purchasing fuel at N350 – N400 per litre or spending the whole day at the Nigeria National Petroleum Company Limited (NNPCL) petrol stations to buy at government's regulated price of N185 per litre, the CBN compounded their woes with the haphazard execution of its naira re-design and swap policy.
---
Vanguard: President Muhammadu Buhari has indicted some banks' Chief Executive Officers, and CEOs on the scarcity of the naira notes in circulation, accusing them of selfishness and inefficiency, saying that they have not done well in circulating the new notes. The President also urged Nigerians to give him seven days to resolve the cash crunch that has become a problem across the country from the policy of the Central Bank of Nigeria to change high-value Naira notes with new ones.
---
The Nation: THE All Progressives Congress (APC) Presidential candidate, Asiwaju Bola Ahmed Tinubu, yesterday alleged moves by those he called fifth columnists in the corridor of power to foist on the country an interim national government. He said the plotters hope to achieve their objective by provoking Nigerians through the crisis arising from the naira notes redesign and the current fuel scarcity.
---
This Day: Eleven governors elected on the platform of the All Progressives Congress (APC) met with President Muhammadu Buhari yesterday at the State House, Abuja, over the lingering cash crunch in the country following the Naira redesign, and demanded for the concurrent use of the new and old notes till the end of this year.
Thank you for reading, that is all for today, see you again tomorrow for a review of Nigerian newspapers.