Many Injured, Property Destroyed In Fresh Lagos Fire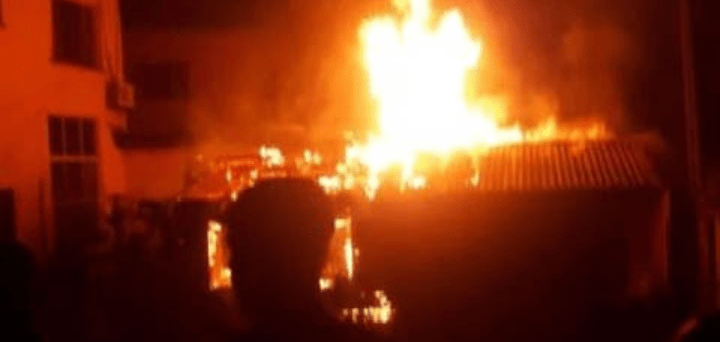 Many have been feared injured and properties worth millions of naira destroyed in a fresh fire incident in Agege, a suburb of Lagos State.
Naija News gathered that two residential buildings were razed in the early hours of Monday at Akinremi street, off Capitol road, Agege, Lagos.
It was learnt that the cause of the fire which was said to have started around 5:30 am when Muslims were called to prayer is yet to be known.
It was gathered from The Nation that residents rushed to the scene to put out the fire before the Lagos State Fire Service entered the area.
A video of the incident according to the report being circulated on social media showed how the fire produced a huge cloud of thick black smoke.
Sources at the fire incident confirmed that as the fire spread, residents in nearby buildings managed to escape with their valuables.
A resident of the area told The Nation that "We had to evacuate our properties so that the fire won't get to our building because the way this fire is going, we cannot predict the end."
Another resident, who was trying to give an account of what sparked the fire said: "The fire started with a lady cooking in front of one the building. If she had called for the help am sure it won't get to this. The people in the neighbourhood tried their best before the firefighters came but the fire is on as you can see."
While another person explained that the fire was assisted by petrol stored in one of the buildings.
The resident told The Nation that "The fire started from the other building before ours. There is a woman cooking in front of that building who uses gas.
"In this same building, some people have petrol because they sell black market. This helped the fire move fast and it entered our own building. Look at us now, we have nothing left. Everything is gone."