Nigerian Troops Continuous Attack Forces ISWAP To Expel Ex-Boko Haram Fighters Loyal To Shekau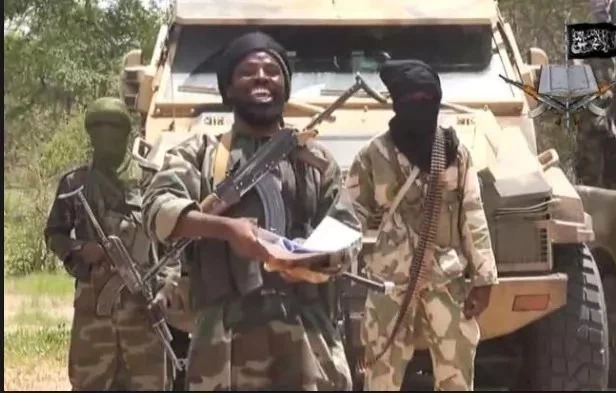 The Islamic State of the West African Province (ISWAP) terrorist group have reportedly expelled former members of the Jamā'at Ahl as-Sunnah lid-Da'wah wa'l-Jihād (Boko Haram) group.
Naija News reports that the Boko Haram fighters had earlier defected and pledged allegiance to ISWAP following the death of their leader, Abubakar Shekau, who killed himself during a violent confrontation with some ISWAP top commanders in June 2021.
Thousands of the Boko Haram had pledged their allegiance to ISIS Aba Ibrahim Al-Hashimiyil AlKhuraishi, after Shekau's suicide death.
A source told Vanguard that ISWAP faction had continued to speculate that the unrelenting successful offensive aattacks carried by the Nigeria troops must have been due to insider information.
They justified their stand following the waves of the intra-group rivalry clashes that culminated in the Boko Haram's Bakoura Doro (Abou Oumaymah) led–JAS faction leading deadly attacks against the Islamic State West Africa Province (ISWAP) positions.
Addressing fighters and their families in the Timbuktu Triangle, the Leader of the ISWAP, Abbah Shuwa also known as Ba'a Shuwa, accused the Boko Haram defectors formerly loyal to Shekau of leaking information to Nigeria authorities.
He said "You may claim to be with soldiers of the Khalifah but your heart and souls is with thr Murtad and Khawarij. You are still loyal to the Abubakar Shekau's Boko Haram group. You are still supporting Abou Oumaymah, and Ali Ngulde, to wage war against us."
Shuwa also accused the Boko Haram fighters of collaborating with the repented Boko Haram to expose their pre-planned attacks which in many case resulted to failures, warning the terrorists to surrender their weapons and leave immediately or face the wrath of the group.
Following the warning, ISWAP led by Ba'a Shuwa on January 24 carried out attacks on Boko Haram positions in Mantari, Gabchari and Maimusari in Bama axis, killing scores of the fighters and with many others fleeing.
Confirming the development, a counter-insurgency expert and security analyst in Lake Chad, Zagozola Makama said the aggressive deployment of intelligence, kinetic and non-kinetic onslaught by the Nigerian Armed Forces have led to the death of hundreds of the terrorists and obliteration of their enclaves within the past few months.
According to Makama, the fear of battlefield elimination forced many commanders of Boko Haram and their families to abandon their missions and surrender to troops.