'Your Crimes Will Destroy You'- Ex Aide Continues To Tackle Atiku, Exposes More Dirt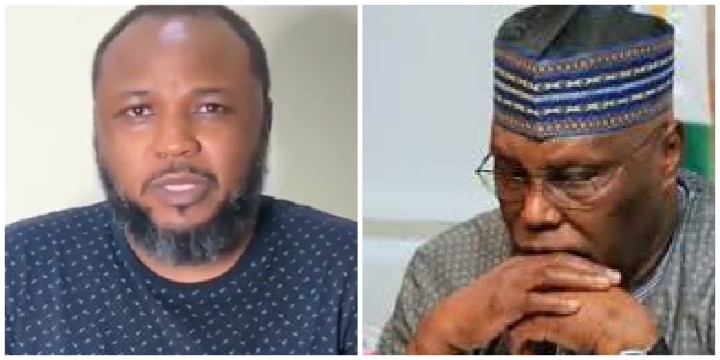 Michael Achimugu, a former media aide to the Peoples Democratic Party (PDP) presidential candidate, Atiku Abubakar, who recently made heavy allegations against the politician has threatened to unleash "crimes that can swallow and eternally destroy" him.
Achimugu made this known via his Twitter handle on Tuesday following an alleged threat to his life and that of his family members after opening up on Atiku's grand corruption, and further threatening to expose his former boss' alleged dark past.
In a series of tweets, Michael dared the former vice president's camp to sue him over his allegations against their principal.
"If I am a fraud, take me to court. I was no fraud when I was working for your principal. I was no fraud when I bore insults for him and made sacrifices.
"Not Atiku people calling me a fraud. Unbelievable. Those who did so before now ran away when it was time to prove their allegations. If you think this strategy will help you, bring it on. Prove me a fraudster and I will go away with tails between my legs," he tweeted.
In another tweet, he said: "Your own daughter records private, physical conversations with you and Babalele, then mistakenly sends same to my phone. Ask her what I saw and heard on convention day. A daughter you were not talking to until I came and reconciled you both. Today I am the devil."
Achimugu had on Monday urged Nigerians not to vote for Atiku for the sake of their children and grandchildren, after leaking an alleged recorded phone conversation between him and former vice president, where the PDP candidate was heard admitting to using "special purpose vehicles (phony companies)" for diversion of public funds during his tenure as vice president under the Olusegun Obasanjo administration from 1999-2007.
In the first of a series of videos released on his YouTube channel on Sunday, Achimugu revealed Atiku's explanation for the N100 million allegedly paid into his account by former Plateau State Governor Joshua Dariye.
He explained that the PDP's flag bearer's explanation, during a conversation they had, that he had committed corruption indirectly was shocking to him.
He claimed that the Waziri admitted to him that the former Plateau State Governor, Joshua Dariye, paid money into the account of Marine Float, set up and controlled by Atiku or his cronies.
Achimugu also revealed how one of Atiku's friends appropriated a media company he set up with billions of naira.