How Atiku Allegedly Stole Billions For Himself And Obasanjo Using SPVs – Former Media Aide Exposes PDP Presidential Candidate [Leaked Audio]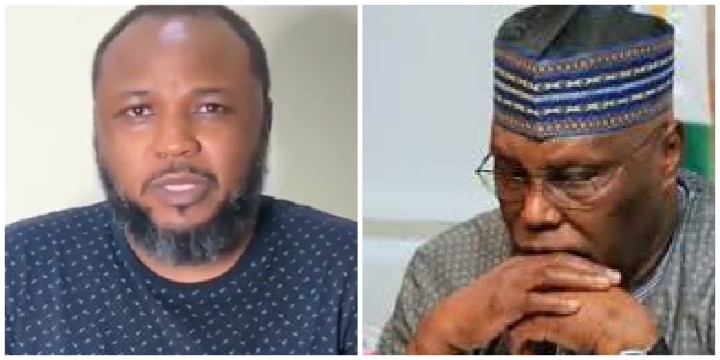 Michael Achimugu, a former media aide to the Peoples Democratic Party (PDP) presidential candidate, Atiku Abubakar has made some heavy allegations against the politician.
Achimugu opened up about Atiku's grand corruption, promising that there is more to come in subsequent videos he plans to release.
Achimugu urged Nigerians not to vote for Atiku for the sake of their children and grandchildren, warning Atiku's attack dogs not to pursue him because there are "affidavit of facts" that would be released if such should happen.
In the first of a series of videos released on his YouTube chanel on Sunday, Achimugu revealed Atiku's explanation for the N100 million allegedly paid into his account by former Plateau State Governor Joshua Dariye.
He explained that the PDP's flag bearer's explanation, during a conversation they had, that he had committed corruption indirectly was shocking to him.
He claimed that the Waziri admitted to him that former Plateau State Governor, Joshua Dariye, paid money into the account of Marine Float, set up and controlled by Atiku or his cronies.
Achimugu also revealed how one of Atiku's friends appropriated a media company he set up with billions of naira.
He wrote, "The SPV conversation made me recall one of the most emotional moments I ever shared with him. It was at the end of 2017 and the Waziri had recounted how he spent "billions of naira" buying equipment and setting up a media company using one Olushola Akanmode as proxy.
"According to him, when he wanted his company returned to him, Akanmode refused. Atiku could not go to court because the documents were in the proxy's name. That event was where he said to me, "All of the people I have helped are never as loyal to me as I was to Shehu Musa Yar'adua."
"Moved by emotions, I had felt extreme pity for him. Today, Akanmode is still in his circle of friends. I will discuss the details in one of the sequels to this piece."