I Stay In The House 24/7 – Popular Nigerian Singer, Dotman Begs American Wife For Divorce During Heated Argument (Video)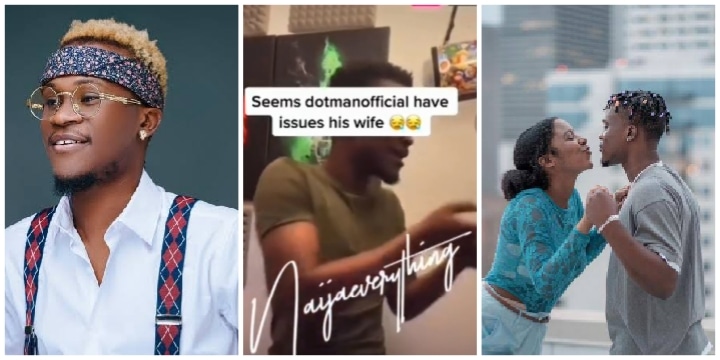 Nigerian singer, Olatunji Oladotun Alade, popularly known as Dotman seems to be having issues in his marriage as a video of him and his American wife, Madison in a heated argument has gone viral online.
The singer and his wife were seen arguing fiercely during an Instagram Live session.
During the course of the argument, Dotman could be heard urging his wife to facilitate their divorce.
His wife could also be heard screaming at the top of his voice.
The singer claimed that Madison is planning on fleeing with their children.
However, the reason for the altercation between the duo is still unknown.
The entertainer and his partner share two kids.
Watch the video below,
Priscilla Ojo Reveals How Her Mum Embarrassed Her
Instagram influencer, Priscilla Ajoke, the daughter of Nollywood actress, Iyabo Ojo, has revealed how she got embarrassed by her mother's action during a reality TV show.
Naija News reports that Priscilla made this known during an interview with media personality, Stephanie Coker, as she speaks on 'The Real Housewives Of Lagos' show.
Priscilla said she had some reservations when her mother was going for the reality TV show due to her private lifestyle and concern over the reactions from netizens.
She said: "I was so – I was so scared. Because I'm a private person regardless and I was like oh my god. I didn't want her to have haters or have negative comments. I didn't know how to stand it because it would affect me. But at the end of the day, my mom is herself. So if you like her, if you don't like her, she's still herself. So she's not going to fake anything. She's not going to do anything to make you not like her. So I was scared at first but then I was like okay, just do what you have to do."
When asked about any point she got embarrassed, Priscilla Ojo referenced the scene her mother got into a fight which got her angry.
In her words: "Yeah! I think it was when she got into a fight and then she was like [shouting], I'm already used to that but I was like mummy, don't let people see this. Oh my goodness. Because when she gets angry, you'll think she literally hates you but like that's how she expresses herself. So I'm like mum, this is a family thing, don't take it out there. So when it was out there, I was like "oh my god". But then, you know, everybody has their own.
"You know that whole thing that happened between Baba Ijesha and all that, I spoke to my mother, I said "mum, don't go live". She said "oh it's fine". When I left, she locked the room. I was like "mum!" I was calling her, she's like "don't call me", she blocked my number. Cuz me I'm the calm type, I don't like social media drama so I was like mum, don't do this. But I feel like she was fighting for the right cause."