Osinbajo Stirs Speculations As He Rechoes Peter Obi's Economic Plan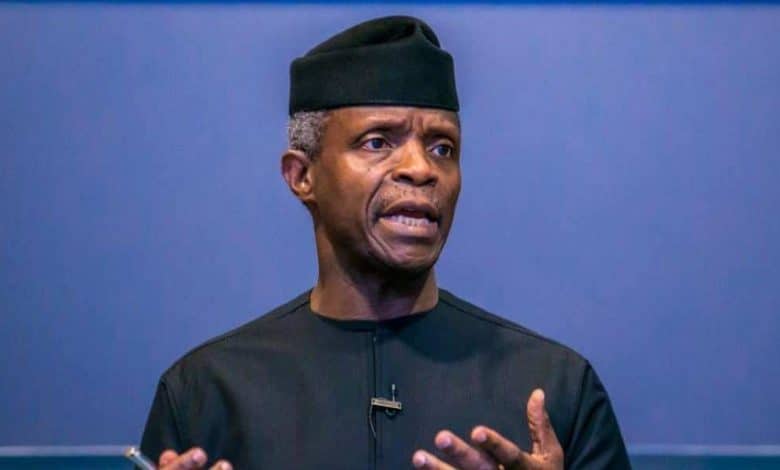 The Vice President, Yemi Osinbajo, has sparked speculations on social media after he said Nigeria must move from consumption to production.
The former Anambra State governor, Peter Obi Naija News understands that had in his recurrent campaign slogan claimed that a drastic reduction in importation of goods for consumption and increase in production of essential goods will help keep jobs in the country instead of exporting them.
While speaking in national innovation workshop organized by the Senate Committee on Science, Technology and Innovation in Anambra State, Osinbajo said, "Nigeria will be great only when we begin to shift our emphasis from a consuming nation. We must rely on production and that is the only way to go."
Some Nigerians read the statement as an endorsement of the presidential candidate of the Labour party' economic plans for the country.
A user of the micro logging site Twitter, Frank, latched on to the statement and said, "VP secretly endorsing obi."
JoSi said, "Okay. Yemi Osinbajo is now Obidient."
OBIDIENT FC wrote: 'Peter Obi you do this one.'
Oladiji Dada wrote: 'Osinbajo is obidiently Obidient. Welcome to the hub of wisdom and patriotism SIr.'
Dinokaysman wrote: 'That means you are aligning with Peter Obi ticket because that is his mantra, welcome onboard sir"
Cheryl King wrote: 'Osinbajo has just confirmed what Peter Obi has been saying for over four months now.'
mideleJohn wrote: 'Just say Vote Peter Obi cuz that's his campaign slogan.'
OBIdient from Osun wrote: 'See Osinbajo campaigning for Peter Obi.'