2023 Electioneering And The Need For Election Debates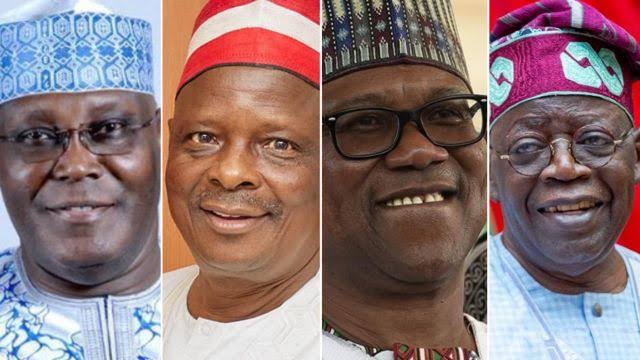 Certain candidates' aversion to public forums, debates and town-hall meetings came to a head when a standard-bearer resolve not to participate in public dialogues not attended by fellow top flag-bearers in the 2023 presidential election. This is a fallout of events at the presidential election town hall meeting organized by Arise Television and the Centre for Democracy and Development (CDD). While Mr Peter Obi of the Labour Party, Rabiu Kwankwaso of the New Nigeria Peoples Party and Kola Abiola of the Peoples Redemption Party were around to dialogue with Nigerians, the Peoples Democratic Party candidate, Atiku Abubakar, was represented by his running mate, Ifeanyi Okowa. However, the presidential candidate of the All Progressives Congress, Bola Tinubu was absent.
Noting that the absence of presidential candidates in debates has assumed a growing trend, Director-General of the Presidential Campaign Council (PCC) of the Labour Party (LP), Doyin Okupe, said his principals "will only be prepared to mount the podium, with their peers in this presidential race, and not with any surrogates or diversionary delegated representation". If this threat holds sway, then those bent on not allowing Nigerians to scrutinize their acuity and credentials for the nation's top job may be on their way to herding Nigerians to the polls blindfolded.
Amid claims of Tinubu's penchant for avoiding public scrutiny, the APC Presidential Campaign Council (PCC) explained that "our candidate had long before now realized the importance of speaking directly to Nigerians and shortly after unfolding his Action Plan as President embarked on Town Hall meetings beginning with his interaction with the Business Community and other stakeholders in Kano followed by the Town Hall meeting and presentation by experts last week in Lagos". If only these were forums convened by independent bodies and where there could be the contestation and defence of ideas.
From this statement released by the spokesman of the APC Campaign, Festus Keyamo, it can be surmised that their principal doesn't intend to attend any debates as the elections draw near. That can't be good for democracy. Staging events where a candidate controls the narrative – or purportedly speaks directly to Nigerians – can't take the place of good old election debates. For starters, the audience of such town hall meetings can't be as diverse or politically heterogeneous as that of independently-organized debates. It must be said that presidential candidates who wilfully avoid objective election debates or town hall meetings deny the citizenry a broad understanding of the issues and prevents them from making informed choices. If such candidates can so blatantly undercut the citizenry whose votes are supposed to propel them to the presidential Villa, then may just be relying on unwholesome means or unhealthy sentiments to realize their political ambition.
If not in Nigeria, where else will somebody, especially persons mired in controversy, aspire for the highest office in the land without latching on to the veritable platform to clear the voting public's doubts about them? Is it now a given that outstanding performance in debates does not guarantee victory at the polls or has debates become a low-stakes issue as far as elections go? It must be clearly stated that assembling a crowd of yes-men, cronies, and sycophants into a supposed town-hall meeting or forum is no substitute for independently-organized pre-election debates and town hall sessions. Those in the habit of doing this should just spare Nigerians the deceit by perhaps calling their event a mini-rally instead.
What's a forum where the candidate can't interface with a cross-section of the populace in-person and extemporaneously speak to the issues at stake and address matters arising? In a town hall or event of a pre-selected audience, discipline, decency, and sagacity are thrown out of the windows for demagoguery and throwing of jibs at political opponents. This was recently the case when in a supposed gathering of professionals, a vice presidential candidate went low by ridiculing a presidential candidate as "Giringori" – a pot shot that not only denigrated the candidate whose other name is Gregory but slurred a South-South ethnic group depicted in the speech mannerism of the New Masquerade comic character.
The truculent running mate went further to allege that his victim, who has repeatedly put himself up to be interrogated and fact-checked, has nothing to offer apart from dubious statistics. Isn't this ironic coming from a man whose principal has been evading independently-organized forums, preferring to speak through surrogates or to a pre-selected audience? Of course, the VP candidate's indecorous utterances wouldn't have been tolerated were it to be a formal debate setting. As the 2023 electioneering approaches crescendo, politicians must realize that Nigerians are enlightened enough not to allow themselves to be swayed by proceedings of specially-curated town halls where candidates read from a script and allow sundry allies to attend to questions from participants.
There shouldn't be a replay of a recent scenario where whoever emerges as President will deny making claims and promises credited to him during the campaign season. It is odious to equate an election debate with a town hall meeting where members of the audience make patronizing remarks about the candidate or pretend to ask questions – the answers to which have already been rehearsed. The world has gone beyond that farce. Nigerians deserve a President who can prove that they think on their feet, not one whose response to questions wouldn't be gibberish, appeal to base sentiments or offensive metaphors. If applicants seeking employment in startups and small-scale enterprises are subjected to rigorous interviews, why won't persons applying for the most important job in the country face their opponents, panellists and Nigerians in a debate?
As the Nigerian Elections Debates Group (NEDG) – the body tasked with organising and hosting live televised debates for presidential, vice presidential and gubernatorial candidates since the return of democracy in 1999, begins a series of debates for this election cycle in the days ahead, none of the invited presidential candidate should stay away or send a surrogate. Nigerians won't have a reason to trust such candidates with power if they can't use the instrumentality of election debates to show their level of accountability. These debates must also be on a peer-to-peer basis; enough of the odd situation where a vice presidential candidate is allowed to represent the standard-bearer in a presidential election debate.
Candidates running for office in the 2023 elections must realize that they are actually doing themselves a world of good by showing up for election debates. According to the IGC research in Ghana and Sierra Leone, "voters showed improved awareness of specific candidates, their policies, and general political knowledge for several weeks after viewing a debate." More so, "participants reported that debates helped inform their choices at the ballot box. They were more likely to vote for candidates who shared their policy priorities and for higher quality candidates." If election debates weren't necessary or a game changer, candidates for elections in advanced democracies wouldn't have been going out of their way to show up and carry the day.