Al-Mustpha: I've Never Stolen Money, Yet Was Treated Like An Animal For Challenging Obasanjo, Abubakar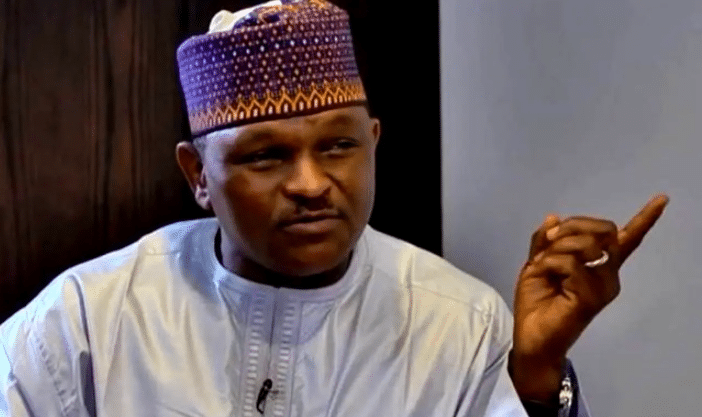 The Presidential Candidate of the Action Alliance, Hamza Al-Mustapha, on Tuesday reflected on his past ordeal as an ex-convict.
The former military officer who was released from the Kirikiri Maximum Prisons, Lagos, in July 2013 following his discharge and acquittal of a murder charge by the Court of Appeal, said he has never stolen money before, not even N10 but yet was treated like trash by some persons.
Naija News recalls that a death sentence was earlier passed on Al-Mustapha and Lateef Sofolahan, an aide to the late Kudirat Abiola. However, the appellate court sitting in Lagos upturned the sentence and the former military officer was released afterwards.
Speaking at an interview on Channels Television's Political Paradigm aired on Tuesday, Al-Mustapha said he faced torture for 15 years, yet he was found not guilty of the charges against him.
Al-Mustapha said contrary to the accusations against him, he (Al-Mustapha) refused to compromise despite what he described as the heat of pressure mounted on him by some persons.
"I don't have money, I have never stolen N10. I challenged two governments; I challenged Abdulsalam Abubakar's government, and I challenged (Olusegun) Obasanjo's government. They searched.
"I was ransacked by bigger international investigative agencies (and the) police. My eyes and thumbprint were taken all around the whole world and they saw nothing. But rather than tell the whole world my clean record, they kept it aside," the presidential candidate said.
According to Al-Mustapha, the persons who falsely accused him of murder, an attempted coup, drug trafficking and money laundering allegations did a "disservice" but he (Al-Mustapha) has forgiven them.
"I faced 14 judges in 15 years and that has been cleared and there is no iota of it," Al-Mustapha told journalists on Tuesday.
He stressed that his detractors wanted to take his life through legal and illegal means because they wanted to take over Abacha's money after taking over power.
"Why did they want to kill me? It is simply because of what I know. I found myself in a situation where I refused to compromise Nigeria and that refusal has cost me the AA presidential candidate."
Al-Mustapha added: "I suffered from propaganda for a period of 15 years with torture trying to just give me a bad name, just for me not to survive.
"In 2019, that was when we discovered that there were 18 attempts to kill me. As of 2013 when I came out, I was aware of 11 attempts."
According to Al-Mustapha, he suffered psychological trauma for years, noting that despite being a serving military officer, he was treated like an animal every day, in chains, hands, legs and neck.
"I was in solitary detention for five years, and two months. My parents were only allowed to see me only twice in 15 years," he recounted.
Speaking on his plans for Nigerians in 2023, Al-Mustapha said he is ready for service.
"I have been part of the government for decades and I know these problems. We created numerous things for Nigeria and records speak.
"My background speaks for itself in terms of building this country," he added.
Al-Mustapha Sentenced To Prison
Al-Mustapha was a former Chief Security Officer (CSO) to the late Head of State, Sani Abacha. The former military officer turned politician was on January 30 handed a death sentence over the alleged murder of Kudirat, on June 4, 1996, in Lagos.
Naija News reports that Kudirat was the wife of the late business mogul and politician, Moshood Kashimawo Olawale Abiola, popularly known as M.K.O Abiola.
The Yobe State-born politician was first arrested in October 1998 for allegedly holding the late Sani Abacha's properties.
The charges against Al-Mustapha, however, could not stick, hence was faced with another charge of gunrunning and a planned coup against the then Head of State, Abdulsalami Abubakar.
Subsequently, in 2004, he was accused of planning to overthrow the Chief Olusegun Obasanjo regime. A development, he later described as blackmail by people in high places.