Shittu Defends Tinubu As Source Fingers Adamu, APC NWC Member Over Controversial Letter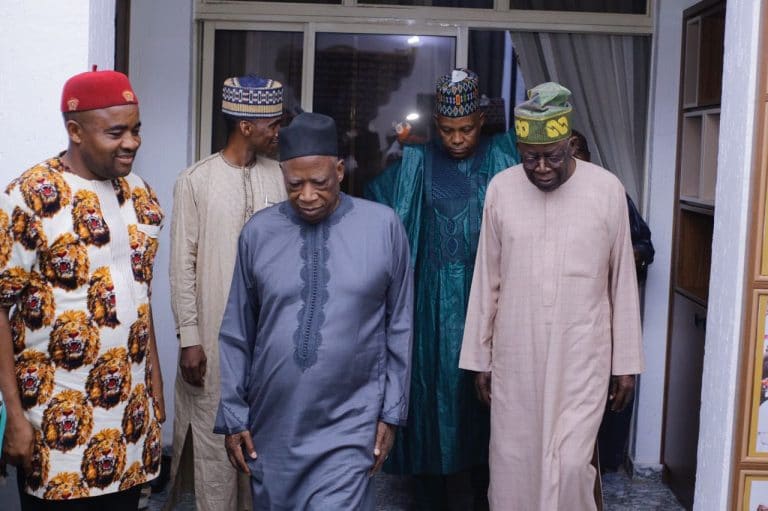 A chieftain of the All Progressives Congress (APC) has accused the National Chairman of the party, Adamu Abdullahi, and a member of the party's National Working Committee (NWC) of being behind the controversial letter to Bola Ahmed Tinubu.
Recall that a leaked letter that went viral had emerged online on Thursday suggesting all is not well within the ruling party.
In the leaked letter, the APC National Chairman accused Tinubu of breaching the agreement he had with the NWC with regard to the composition of the presidential campaign council.
Adamu said the presidential candidate is operating solo whereas winning elections is supposed to be a collaborative effort.
But in a swift statement, the party's National Publicity Secretary, Barr. Felix Morka, denied any letter originated from the chairman to the presidential candidate on such an issue.
According to Morka, there is no disagreement between Adamu and Tinubu neither did the viral letter originate from the party chairman has been alleged.
But speaking to The PUNCH, the APC chieftain said Adamu and the NWC member are the brain behind the aborted letter.
He, however, said Tinubu who is expected to return from his vacation in London, United Kingdom, on October 3, has to give the nod before additional fresh nominations for the campaign council can be released.
The official stated, "That draft or whatever name they call it was not the position of the entire NWC. Those who know Adamu well enough will confirm that the tone of that letter reflects his expression; always wanting to be in control of everything.
"Whether the APC denied the letter or not, Adamu has achieved his aim by indirectly using the media to pass his message. It is quite clear. Tinubu may however accept to dance to the new tune or call their bluff."
PCC List An Internal Issue
Meanwhile, a former Minister of Communication and Director-General of Asiwaju Tinubu-Shettima Coalition for Good Governance, Adebayo Shittu, said the matter rocking the APC is an internal issue that would soon be resolved by the candidate and relevant stakeholders in the party.
"I am confident that the issue will be sorted out. As I used to say, political parties are an association of free joiners and free leavers. To me, I don't see it as a big deal. It will be sorted," he said.