He Wore The Gym Shoes To Mock Obidients – Reno Omokri Reacts As Shettima Discloses Reason For Footwear To NBA Conference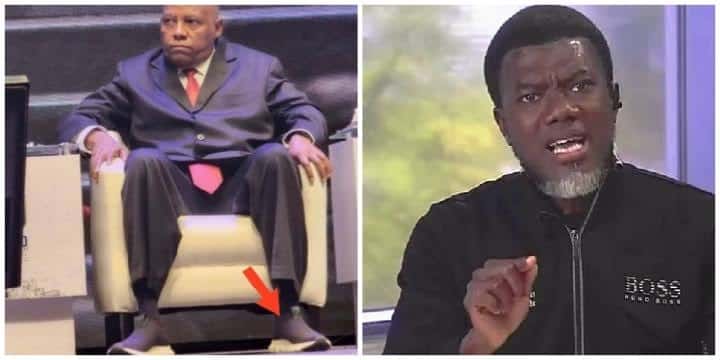 Former presidential aide, Reno Omokri has reacted to a video of the All Progressives Congress vice presidential candidate, Kashim Shettima stating that he deliberately wore gym shoes to the Nigerian Bar Association, NBA, annual conference.
Recall that Naija News earlier reported that the former governor of Borno state had revealed on Thursday that he had received word that there was a gang up against him, so he decided to throw them off with his outfit.
He noted that the outfit was deliberately worn to throw peo­ple off during the event.
"I was in Lagos for the NBA conference. It used to hold at Eko Hotel and was largely funded by the APC government of Lagos state"
He continued; "Subsequently, they moved it to Eko Atlantic; a product of an idea sanctioned by Asiwaju Bola Ahmed Tinubu
"One of the candidates, he funded his agents and they held meetings for 3 consecutive nights to cause mischief
"When I was told that it was a hostile crowd, I deliberately wore sneakers".
Reacting to the latest revelation, Reno took to his Instagram page, shared a video of the former governor speaking on the incident and went on to make a quote which alleged that the crowd the former governor was referring to is the Obidient movement.
He wrote: "I deliberately wore sneakers to the NBA Conference to mock Obidients- Shettima"
The Obidient movement is a group of supporters who have pledged allegiance to the candidacy of Labour Party presidential candidate, Peter Obi.