Atiku Slams Sowore Over Comment On National Grid Collapse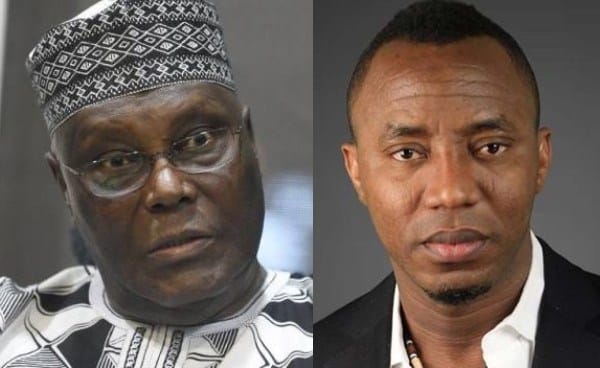 Atiku Abubakar, presidential candidate of the Peoples Democracy Party (PDP), has berated Omoyele Sowore over his comment on the recent electricity grid collapse.
Speaking in an interview on Arise TV on Friday, Atiku said Sowore is ignorant of his contributions to the power sector while he was the vice president.
Naija News reports that the country suffered its latest electricity grid collapse on Wednesday, plunging many cities and towns into darkness.
After the grid collapse, Atiku had taken to the micro-blogging platform Twitter to condemn the frequent electricity grid collapses in Nigeria.
He also proposed an innovative financing of infrastructure that will involve the facilitation of a review of the financial, legal, and regulatory environment to promote private investment in power, among other sectors.
Reacting to Atiku's comment, Sowore also took to Twitter to accuse Abubakar of being part of those responsible for the frequent national grid collapses.
Sowore said Atiku should cut the pretence as it was during the administration of President Olusegun Obasanjo in which he served as Vice President that the grid started collapsing.
He also made reference to the controversial $16 billion said to have been spent on the sector by the Obasanjo government without any concrete result.
Reacting to Sowore's claims, Atiku said: "He is my opponent, what do you expect him to say? Sowore has always lived outside the country. He doesn't even know the policy implementation and policy initiative in the power sector.
"When we came in 1999, the total generation was about 4,000Megawatts. We initiated the building of nine additional power stations and by the time those nine were finished, the capacity has gone up from 4,000Megawatts to about 13,000Megawatts.
"Unfortunately, there was no correspondence increase as far as the transmission lines are concerned. There is no way when your transmission lines cannot evacuate the power that you are producing that it will not collapse. So they keep on collapsing.
"The additional power stations were completed by the Jonathan administration. Umar Yaradua was on it and he died, then Jonathan continued and he completed them. So, that is why anytime there is an increase in power generation, then you have a transmission system that cannot evacuate the power, there will be a collapse.
"So, Sowore doesn't even know because he lives outside this country and comes in every four years and contest the presidency and fails and travels out again, What does he know about this? Nothing, absolutely nothing."
In order to address the incessant electricity grid collapse in the nation, Atiku called for the decentralisation of the generation and transmission systems.
He also called for the use of various allied sources of power such as hydro, and solar among others to generate electricity.