Sri Lanka President, Rajapaksa Flees His Country Amid Plan To Resign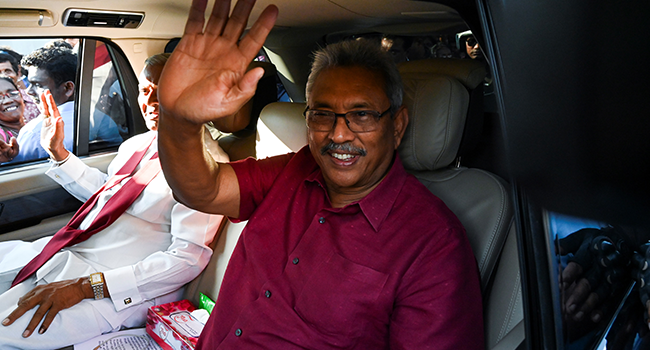 The chaotic events unfolding in Sri Lanka have forced President Gotabaya Rajapaksa to jet out of the country for safety, reports say.
A few days ago, President Rajapaksa opened up about his readiness to resign from the exalted position in the country, a development coming hours after a mammoth crowd chased him from the Presidential residence.
Naija News reports that hundreds of Sri Lanka citizens marched in the capital Colombo to demand that the President takes responsibility for mismanaging the nation's finances, and for crippling food and fuel shortages.
The development sent Rajapaksa out of his official residence in Colombo just before tens of thousands of protesters overran it.
Sri Lanka is understood to have suffered through months of shortages of basic goods, lengthy blackouts and galloping inflation after running out of foreign currency to import necessities.
The government is reported to have defaulted on its $51 billion external debt and is seeking an International Monetary Fund bailout.
Reports, however, reaching Naija News today confirmed that Sri Lanka's embattled president jetted out of the country on Wednesday morning.
This is perceived to be a prelude to his resignation plan after months of incessant protests and display of anger by the citizens over the island nation's worst-ever economic crisis.
Because of his position, Rajapaksa is immune from arrest. Hence, he is believed to have wanted to go abroad before stepping down to avoid the possibility of being detained.
Naija News learnt Rajapaksa's wife and a bodyguard were among four passengers on board an Antonov-32 military aircraft which took off from the main international airport heading for the neighbouring Maldives this morning.
Immigration sources told AFP in a short interview this morning that "Their passports were stamped and they boarded the special air force flight."
Reports said the 73-year-old had wanted to fly to Dubai on a commercial flight earlier but that staff at Bandaranaike International withdrew from VIP services and insisted that all passengers should go through public counters.
Further information made available to reporters said the presidential team were reluctant to go through regular channels due to fear of public reactions and as a result, missed four flights on Monday that could have taken them to the United Arab Emirates.