2023: Use Your PVCs For Election, Not To Open Bank Accounts – INEC Chairman Tells Nigerian Youths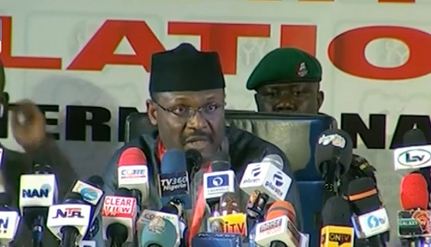 The chairman of the Independent National Electoral Commission (INEC), Professor Mahmood Yakubu has assured Nigerians that the Permanent Voter Cards (PVCs) will be ready for collection before the 2023 elections.
He gave the assurance on Saturday in Abuja during the Youth Vote Count concert at the Old Parade Ground, Naija News reports.
Prof. Yakubu however urged the youths to ensure the cards are used for the main purpose for which it is produced which is to vote during elections.
The INEC boss charged them not just to see the PVC as an identification tool for bank account opening.
He added that those who recently registered to vote will collect their PVCs latest by October 2022.
He said: "When will your PVCs be ready for collection. I want to assure you that the PVCs will be ready for collection latest in October this year, long before the election. So all of you will have your PVCs," the INEC chairman said.
"I want to thank you for making the PVCs the most popular ID in Nigeria, today. But when you collect your PVCs, don't use the PVCs for other things. The PVCs are for elections not for the opening of bank accounts. So please use your PVCs for elections."
The concert which is to encourage more youths to register and vote in the 2023 election is a partnership effort between INEC, civil society organisations and the European Union (EU).