2023: INEC Reveals When Nigerians Will Be Able To Collect New PVCs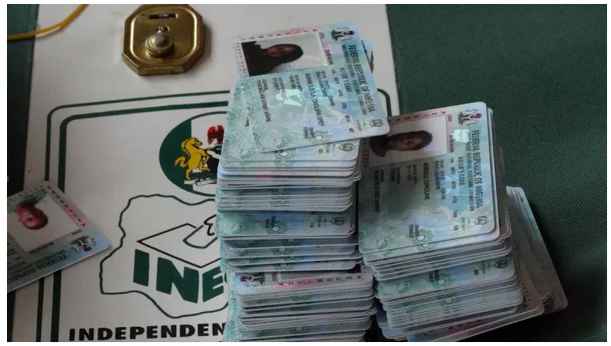 The Independent National Electoral Commission (INEC) has revealed that those who are just registering for the Permanent Voter Cards (PVCs) during the registration window that closes on June 30th won't get their cards immediately.
INEC revealed on Tuesday that the PVCs from the current registrations won't be ready until probably January 2023.
Making the position known, the Resident Electoral Commissioner of Federal Capital Territory, Yahaya Bello explained that there are processes and procedures that must be followed before the cards can be printed.
He, therefore, appealed for understanding and corporation from Nigerians.
The REC clarified that those seen collecting their PVCs at the moment are from 2011, 2019 and last year.
Bello spoke during a press briefing in Abuja ahead of the Youth Vote Count Mega Music Concert scheduled for Saturday which is a joint effort by INEC, Yiaga Africa and the European Union.
"Anybody just registering cannot immediately collect them (PVCs) until after the end of the whole exercise".
"I want to make it clear that the PVCs you see people collecting now are from 2011, 2019 and last year. Those who are participating now till June 30 won't be able to collect theirs now.
"It is a process that will allow us to print these cards. The collection of the PVCs will not commence until the first month of 2023 and it will be done in person, not by proxies.
"Let me also appeal to Nigerians to be civil in the course of this laudable initiative. If we fail to behave ourselves in an orderly fashion, it will only give room for people who want to cause commotion to steal our phones and wallets," he appealed.
On the possibility of INEC extending the date for the voter registration exercise, the REC stated that he is not in a position to talk about that.
"I think INEC National Commissioner and Chairman, Information and Voter Education Committee, Prof Festus Okoye, would have been in a better position to answer that," he said.