Nigerians React As Fr Mbaka Apologises To Peter Obi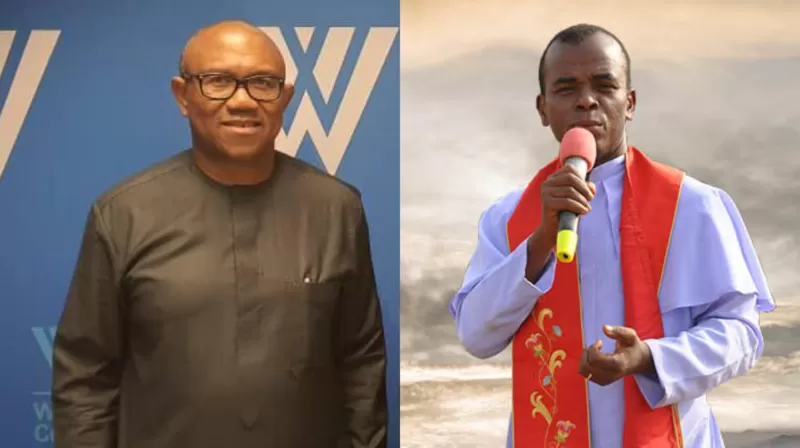 Nigerians have taken to microblogging platform, Twitter to react to the decision of Spiritual Director of Adoration Ministry, Enugu, Fr. Ejike Mbaka to apologise to the presidential candidate of Labour Party, Peter Obi, over 'stingy man' comment.
Recall that Mbaka while addressing his church members had stated that the former Governor of Anambra State can not be Nigeria's next president.
Mbaka further stated that it is better to have an old man rule Nigeria, than a stingy man.
The statement attracted reactions from Nigerians who condemned Mbaka for attacking the presidential candidate.
Mbaka, however, on Friday apologized for attacking Obi, adding that he would continue to pray for him and give his blessing to Obi's presidential ambition.
He added that Obi remains his friend and he wishes him success.
Some Nigerians in their reaction feel the apology of the cleric was not sincere and he might decide to change is stand someday
See some reactions below:
Tomorrow he will say he waa FORCED to tender an apology. He should keep his prayers for those coming for adoration in his parish.
We have a lot of good Catholic priests and Pastors from other Churches that are praying for Peter Obi and good governance. Nigeria will win not Mbaka

— NKOLI (@Real_Enkay) June 17, 2022
He's not truly sorry. This isn't the first time Mbaka will apologize to @PeterObi says a lot about him. He will still come and say he was pressured by his Bishop. @FrUgochukwu I tire for this your colleague

— Mary Chukwudubem (@Mariecarvins) June 17, 2022
He was forced again. How will he say he was misunderstood? He will attack again. His bishop should help him asap.

— Duke of Warri (@OratioOdede) June 17, 2022
This is not an apology.

How many people wan read this thing? Woooo

He should issue this apology the same way he slandered PO

— Dichee🤍✨️ (@Ada_Ihiala) June 17, 2022
I hope he won't say this apology was given under duress again

— OBIdient girl (@NursJayP) June 17, 2022
I'm pretty sure he will still come out and say something worse again.

— Adannaya🥰🥰 (@OgechukwuRegina) June 17, 2022