Nigerians React As APC Reportedly Picks Kano Governor As Tinubu's Running Mate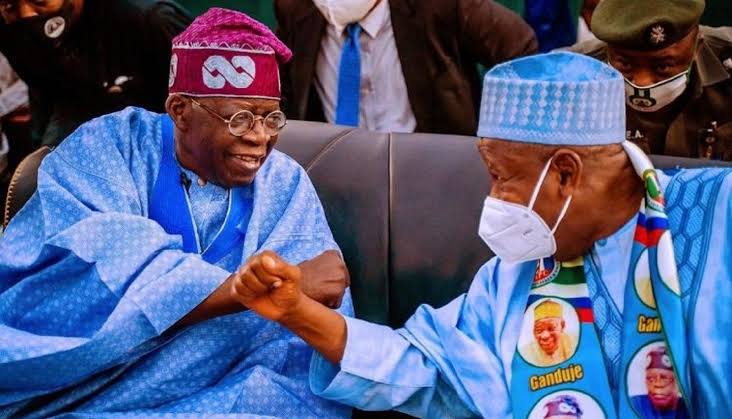 Nigerians have taken to microblogging platform, Twitter to react to the report that the All Progressives Congress has picked the Governor of Kano State, Abdullahi Ganduje as the running mate of the party's presidential candidate, Bola Tinubu.
Naija News had earlier reported that the Director-General of Ganduje's Support Group, Suleiman Magaji made this claim in a statement made available to newsmen.
Magaji noted the National Working Committee (NWC) of the ruling party picked Ganduje to run alongside Tinubu in the 2023 general election based on his loyalty to the ruling party, commitment and infrastructural development of his state.
According to Magaji, Ganduje was chosen despite the issue of religion been considered.
Some Nigerians in their reaction believes the decision could be the end of the ruling party.
See some reactions gathered by this platform below:
Metaphorically, this is a fantastic team. APC may have unknowing excused itself from winning the presidential race.
How can APC pair two people with a history of alleged Court forfeiture and Dollar 💸 stuffing in Agbada as number 1 and number 2?
The video and docs are out there.

— stop corruption (@stopcorruption1) June 15, 2022
What a combo! Oga Bullion Van and Oga Dollars. Nice! 😅👌

— Milan 360° 🔴⚫ (@Jo360Degrees) June 15, 2022
Beginning of the end of APC

— Bodi James Maigida (@Bodman555) June 15, 2022
They are hoping to gain more vote in kano' and the fear of Kwankwaso

— Uzmanbj (@aduagba_usmanbj) June 15, 2022
God won't let great grandfathers rule this nation, Nigerians are tired of unhealthy men to run this nation.

— Nengiblue (@benstowe_nengi) June 15, 2022