Section 84(12): Supreme Court Fixes New Date To Hear Buhari, Malami's Case Against National Assembly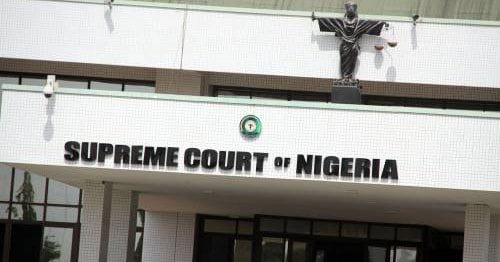 The Supreme Court of Nigeria has fixed May 26 for hearing the suit filed by President Muhammadu Buhari and the Attorney-General of the Federation, Abubakar Malami on the controversial section 84(12) of the Electoral Act 2022.
Naija News recalls that the apex court had fixed today to hear a suit filed by the President and Malami voiding the provisions of the controversial section.
In the suit filed on April 29 and marked SC/CV/504/2022, Buhari and Malami listed the National Assembly as the sole defendant.
However, during the continuation of the hearing today, the Supreme Court granted the application by the Rivers Attorney General and Speaker to be made defendants in the suit.
Lawyer to the new defendants, Emmanuel Ukala (SAN) said his clients believed they needed to be made a party in the case because they would be affected one way or the other by the outcome.
A seven-member panel, led by Justice Musa Dattijo Mohammed, granted the application of the Rivers officials and included the two as defendants.
Lawyer to the federal government, Lateef Fagbemi (SAN) and lawyer to the National Assembly, Kayode Ajulo did not oppose the application.
In its ruling, the apex court ordered parties to file and exchange all necessary processes on or before next Wednesday and adjourned till Thursday for hearing.
This platform recalls President Buhari had wanted the National Assembly to remove the clause which bars political office holders from voting or being voted for during party primaries to be removed.
He argued that the constitution has made provisions for such contingencies and the section of the electoral act on the matter is in conflict with the constitutional provisions that exist already.